If great schools top the list of what draws new homebuyers to Bainbridge Island, great parks aren't far behind. With more than 1,500 acres of public park land and a trails system that stretches 40 miles in all directions, exploring and enjoying Bainbridge parks goes to the very heart of island living.
Just ask Windermere Bainbridge Island Broker Jason Shutt. Serving on the board of the Bainbridge Island Parks Foundation, Jason sees firsthand the payback that comes from the community's investment in parks and trails. 
"I grew up across the street from a large urban park and spent vacations going to national parks. So recreation is in my blood," says Jason. He lives near Winslow town center with his wife Mairead and their three children. "I joined the Parks Foundation to ensure I live in a place that gives these same opportunities to others."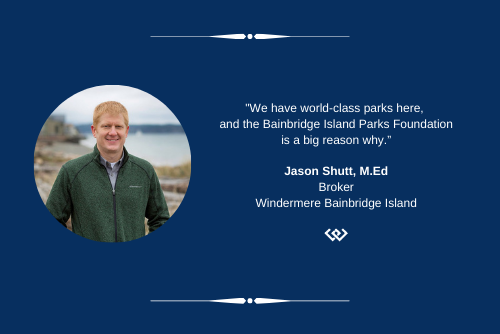 An Island Rich in Parks
The island's sprawling park system is managed by the Bainbridge Island Metro Park & Recreation District, a municipal agency. But islanders consistently ask for amenities above and beyond what general tax funding affords. That's where the Bainbridge Island Parks Foundation comes in.
Closely aligned with, but independent from the Park District, the nonprofit Parks Foundation has raised more than $1,000,000 in private funds over the past five years. All funds raised have been for parks and trails projects, which benefit young and old alike. The Foundation led the development of Owen's Playground, the island's first accessible playground for kids of all abilities, at Rotary Park. 


Photos of Owen's Playground by Leo Phillips.
The new Pickleball Founders Courts at Battle Point Park opened last summer, built by Bainbridge Island Metro Park & Recreation District with support from the Parks Foundation. The six dedicated courts and plaza are pickleball's first-ever permanent home on Bainbridge, honoring the game that was invented on Bainbridge Island in 1965.
Various Initiatives and Programs
The Foundation's Community Grants program has supported countless smaller projects, from the high school sailing team's fleet to diving boards and water stations at the Aquatic Center. Joe Richards, a Windermere Bainbridge Island Managing Broker and 22-year resident, has been involved with the Aquatic Center for over nine years and knows first-hand how beneficial it is. "The Masters swimming program, under the leadership of our world-class coach April Cheadle, has exceeded anything I could have hoped for. Thank you BI Parks for providing this person, this program, and this place for our community."
The Foundation's support also extends to environmental stewardship and restoration year-round, from Blakely Harbor Park to the Grand Forest, to smaller neighborhood parks islandwide. This is done through the Summer Trails Crew, Nonprofits Helping Parks, and other programs.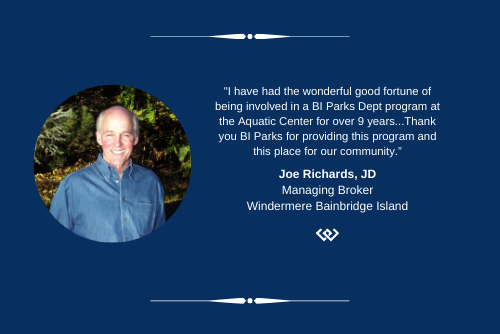 The Foundation's current initiative, KidsUp! The Next Generation of Play at Battle Point Park is rebuilding the original KidsUp! as another inclusive, accessible playground. The centerpiece will be a giant, one-of-a-kind ferry boat play structure with climbable Orca whales. They will be "swimming" nearby to delight and educate kids about the natural environment of the Salish Sea.
"The more you learn about the Parks Foundation, the more you have to be impressed with its impact. Serving on the Foundation board has certainly opened my eyes," Jason says. "I'm glad to share it with my clients, colleagues in the real estate community, and anyone else who asks. We have world-class parks here, and the Bainbridge Island Parks Foundation is a big reason why."
The Leader in Trails
When it comes to Bainbridge's trails, you can quickly see Bainbridge Island Parks Foundation's impact. The Foundation works with the Park District, the City of Bainbridge Island, and other stakeholders to plan and fund new trails connecting parks and neighborhoods. Soon you'll be able to hike from Winslow all the way to Gazzam Lake Nature Preserve – an unprecedented cross-island route. It's sure to be a real draw for visitors. And, it's already drawing people to the island. Online guides like TripAdvisor are full of testimonials from around the country, including hikers wowed by our trails.
Current and Future Benefits
The Foundation is about to launch a major Trails Campaign. This will fund the development of 10 miles of new trails over the next five years. With museums, restaurants, and other cultural spaces largely closed down and/or limited due to the pandemic, many of us have turned to the outdoors for connection and health. No matter where you live on Bainbridge Island, there's a park or trail near you. The Bainbridge Island Parks Foundation has probably done something to make it better.
"COVID has really brought the importance of our Bainbridge parks into focus," says Jason, who co-chaired the Sakai Park bond campaign, to create the 23-acre park five years ago. "The lockdown and social distancing have kept us all pretty close to home for the past year. But we have our parks and trails as an outlet to stay active and healthy and grounded. Our community is extremely fortunate, and it shows what a great investment our parks have been and continue to be." 
You can find out more about the Bainbridge Island Parks Foundation on their website, and you can support a park project that's important to you.
Learn More about Bainbridge Island
If you'd like to learn more about our wonderful island community, check out our Newcomer's Guide to Bainbridge Island. In it, you'll find videos, articles, and helpful links to learn about our neighborhoods, schools, outdoor activities, local home buying resources, and much more.