Bainbridge's real estate market exceeded expectations in our second quarter. That's even compared to last year's similarly strong performance. We've compiled key highlights to keep you in the know about our local market.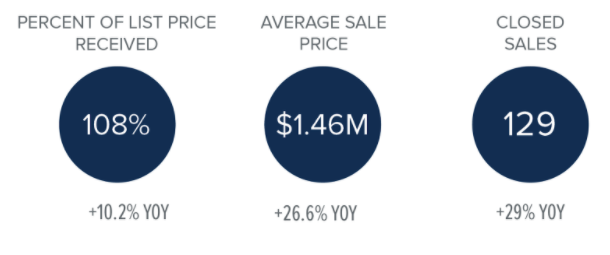 Our Strong Seller's Market
Bainbridge Island is still an increasingly competitive market, and we just had a strong second quarter.  Since Bainbridge is so close to Seattle and retains its island beauty, it continues to attract buyers moving away from bigger cities as the way we work continues to trend toward remote work. There are still many more highly motivated buyers than sellers. Inventory remains low and demand remains high. Our Brokers can help navigate this competitive market. We've seen continued situations where buyers are outbid either by price or by an all-cash offer. Having a local expert as your guide can help you achieve success.
In the last five quarters outlined in the graph below, the continued growth trend in sales volume for the second quarter of 2021 is even higher than 2020's second quarter. That was during the Covid lockdowns, which prompted a surge in home buying in places outside major cities – like Bainbridge Island and beyond. 
Average Prices
With our lower supply, we continue to see even higher prices. And, still, many buyers are showing that they are willing to meet the demands of Bainbridge's pricing.  As you can see below, the listing and sale prices both continue to rise. Sellers continue to benefit from our inventory shortage.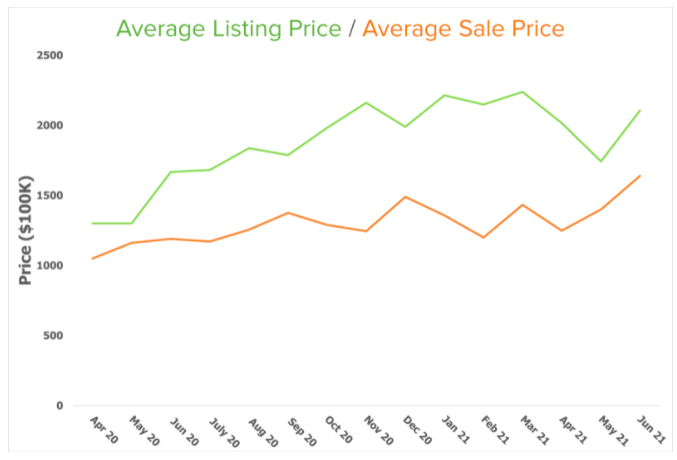 Market Insights from Matthew Gardner
In his most recent Monday with Matthew, our Chief Economist, Matthew Gardner, begins with the staggering fact that "prices have risen almost three-fold, as the cost to finance has dropped by 72%."  If the number sounds too good (or bad) to be true, that's because it is. To get an accurate picture, you also have to consider inflation. Gardner points out that "just like other goods and services, the price of a house today is not directly comparable to the price of that same house 30 years ago". That's due to the influence of inflation in the long run.  When you adjust for inflation, the rise in housing prices becomes less drastic. Without adjusting for inflation, "prices have risen by 268%." But when you adjust for inflation, the "real prices have increased by 83.6%."  Therefore, "the increase is significantly lower than most people are talking about today."  This should come as welcome news to discouraged first-time home buyers.
Gardner then compares mortgage payments.  Although, without adjusting for inflation, "mortgage payments have increased by 74.3%," the inflation-adjusted "real payments are 10.7% lower!".  Of course, there are other monthly payments associated with homeownership like property taxes. They do not change with market fluctuations. But this still indicates "that prices have been able to rise so significantly because mortgage rates have dropped." Additionally, home prices adjusted for inflation really haven't skyrocketed, though many seem to think so. Again, this is great news for buyers.
There are some caveats, though. Gardner clarifies that "there are some markets across the country where the picture isn't quite as rosy.  In these places, prices have risen significantly more than the national average."  The Seattle metropolitan subunit, which extends around our local area, is one of these places. This is largely from the increasing affluence in relation to the tech boom.  
Not a Housing Bubble
Gardner says the bottom line is "there are quantifiable reasons to believe that we are not in a national housing bubble today. But some markets will experience a significant slowdown in price growth given where prices are today in concert with the spectre of rising mortgage rates."  Ultimately, it's still a strong seller's market with an overall low supply and high demand. We expect to continue to see issues with affordability as prices and mortgage rates continue to climb.