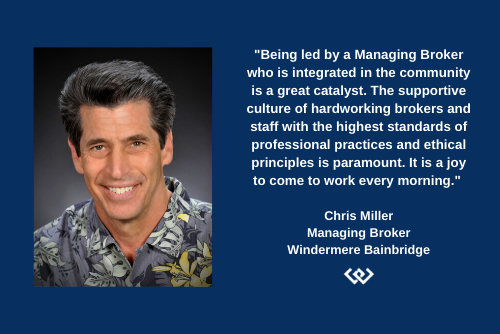 Although Managing Broker Chris Miller has extensive real estate experience, he's new to our Windermere office but not to real estate on the island. So, we wanted to highlight him in our Q&A series. We're delighted to have him. His expertise, fascinating background, and positivity are greatly appreciated.
What drew you to real estate?
I was drawn to real estate by the opportunity it gave me to run my own business and the freedom it gave me to give back to and be active in my community. It also afforded me the time to be the springboard diving coach on Bainbridge Island for almost 30 years.

What unique professional experiences or skills do you possess that enhance your abilities as a realtor?
My communication and organizational skills have been honed through successful production of events in a previous music career and concurrent athletic coaching career.  When presented with a challenge, I relish researching for true and accurate information from original, reliable, and proven sources.

What personality traits do you think are important in this profession?
I believe this profession calls for the sincere personality traits of honesty, reliability, attention to the details, and of course, good etiquette.
Which areas do you serve and what do you love about the area?
I primarily serve the Bainbridge Island and North Kitsap areas.  These are the places I know and understand.  I love that Bainbridge Island and North Kitsap are the "midway" between Metropolitan Seattle and the wilderness areas of the Olympic Peninsula.  It makes for a more relaxed pace of life and people seem more "grounded".  I love Puget Sound and the mountains.

How long have you lived here and what brought you here?
I moved here with nothing but my backpack in 1988 after hiking the Pacific Crest Trail.  I stumbled on Bainbridge Island while taking a side track visit to the Hoh Rainforest. Back then Bainbridge Island reminded me very much of my hometown in the suburbs of NY near the New Jersey border, so I settled here under the notion of, "Go west young man, and seek thy fortune".
How are you involved in the community?
Community involvement has been a big part of my life even as a child growing up.  I have been on the Bainbridge Island Grand Old 4th of July production committee since 1992, been the springboard diving coach on the island from 1991 to 2019, I am a Chamber of Commerce Board of Director for a third time, been on the Kitsap County Association of Realtors board for two terms in the past, been a past president of the retired BI Lions Club, created the first electronic recycling event on Bainbridge Island in 2007 with my Business Partner Bill Barrow, and through him, I've been an avid supporter of the BI Kiwanis Club and their scholarship programs over the years.

What made you decide to work with Windermere?
I decided to take my business practice and license to Windermere Real Estate Bainbridge Island because it reminds me very much of the very first office I worked at here on Bainbridge Island. Deschamps Realty is long gone now but taught me the importance of being a community-minded business. Being led by a Managing Broker who is integrated into the community and encourages the office to respect and support the community is a great catalyst.  The supportive culture of hardworking brokers and staff with the highest standards of professional practices and ethical principles is paramount.  It is a joy to come to work every morning at the crack of dawn and be surrounded by colleagues and staff who exercise mutual support.  Go Team!

Is there anything else you'd like to share with us?
You may recognize me from my real estate partnership with Bill Barrow over the past 20+ years.  He afforded me many opportunities and I loved working with him.  We worked well together.  He was not only my partner but one of my best friends.  Bill passed away on August 7, 2021, and I miss him very much.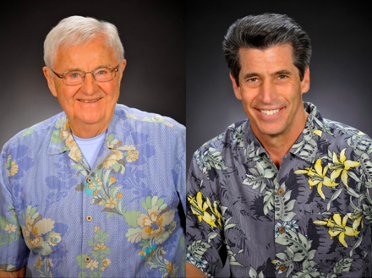 We're very fortunate to have Chris on our team. If you'd like to learn more about him, check out his very interesting bio; you'd be hard-pressed to find one that's more unique.