The leaves are turning and fall is here! Celebrate the season with some fun, local fall activities. Here's a list to get you started. 
Pumpkin Patches
A Bainbridge Island favorite for u-pick, Suyematsu Farms is back at it this year with their wonderful pumpkin patch. They grow many different types of squashes, gourds, and pumpkins. Celebrate autumn by taking festive photos and finding beautiful, delicious fall decor. Check their Instagram or their Facebook page to find out about special happenings. 
Opened Saturday, September 25th
Hours: Weekdays 1:00 PM – 6:00 PM and Weekends 10:00 AM – 5:00 PM
Fat Turnip Farms has a great farm stand with certified organic produce and they have a u-pick pumpkin patch. Their setup offers fun photo ops with friends or little ones, and they periodically offer events. Check their Facebook page for details.
Opened Friday, September 17th
Hours: Daily from 10:00 AM – 6:00 PM
This farm sits on 5 acres in Scandia and has been a local favorite since 1966. They have great produce, pumpkins, herbs, and flowers. Enjoy their beautiful fields and visit their animals. For current offerings, visit their Facebook page.   
Open: Ongoing 
Hours: Times vary; check their Facebook page for the latest information.

Fall Activities
This year is the 27th year the Bainbridge Gardens has hosted this free, delightful Halloween activity. The Bainbridge Gardens' historic nature trail is lined with hundreds of hand-painted and carved pumpkins as well as themed vignettes. Pumpkin submissions are being requested to add to the pathway, and it's an integral part of the experience. Live music and food trucks will be making guest appearances. Visit their website for more details.
Starts October 1st and ends October 31st
Hours: Mondays – Saturdays 9:00 AM to 5:30 PM and Sundays 10:00 AM to 5:30 PM
The drive-thru version of this event is back again this year. For $25 per car, you can take a Halloween-themed drive to see fun displays and performances.  The attractions are ongoing and cars are asked to continually drive slowly at 5mph to keep the flow of traffic moving. Additionally, you can enter the pumpkin carving contest (PDF) to have your jack-o-lantern displayed during the event. Prizes will be awarded to the top three pumpkins. 
Starts Tuesday, October 19th and ends Thursday, October 21st 
Hours: Drive-thru times are available from 6:00 PM to 9:00 PM and you can register here (one registration needed per vehicle)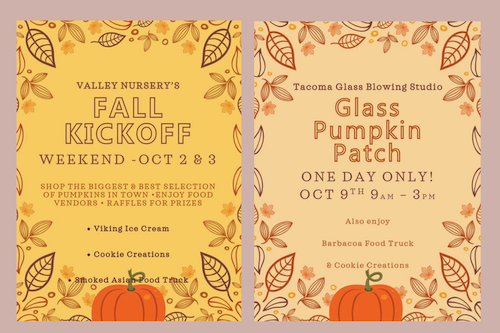 Enjoy two fall activities at Valley Nursery in Poulsbo. First, check out their large selection of pumpkins at their Fall Kickoff, happening the first weekend in October. It includes raffle prizes and delicious food for purchase from Smoked Asian Food Truck, Viking Ice Cream, and Cookie Creations. The following week, they're having their annual, one-day Glass Pumpkin Patch, sponsored by Tacoma Glass Blowing Studio. Come for the festivities and for lunch! The Barbacoa Food Truck will be there as well as Cookie Creations. Stay up to date on Valley Nursery's happenings by visiting their Instagram. 
Fall Kickoff is on Saturday, Oct. 2nd and Sunday, Oct. 3rd
Glass Pumpkin Patch is on Saturday, October 9th 9:00 AM – 3:00 PM
First Signs of Fall
As a little bonus, watch our snapshot video showing the first signs of fall. We loved getting glimpses of fall's colors at Poulsbo's Fish Park.