We don't know about you, but we're excited for Thanksgiving and all of the festivities that occur this time of year. Now's the time to start planning! So, here are some interesting Thanksgiving side dishes that could make your meal even more memorable and delicious. These recipes cater to a variety of taste buds so you'll truly have something for everyone.
Easy Thanksgiving Sides
Don't have time to make a labor-intensive side dish? No worries, we've got you covered with two "one-pot" recipes. Both of these dishes only require tossing the ingredients into an appliance and waiting. Not only do they need minimal oversight, but they're also sure to impress at the dinner table.
Slow Cooker Creamed Corn with Bacon
Slow Cooker Creamed Corn with Bacon is a creamy side dish that only requires ten ingredients, eight of which you simply throw into the slow cooker. You can get it started and then go about your morning, preparing everything else and enjoying time with family and friends. Four hours later, you have a savory dish that will have guests begging for seconds. 
Air-Fryer Broccoli Parmesan
This recipe is a one-pot, air-fryer recipe. All you need to do is throw some broccoli and seasoning into an air fryer and set it aside for a couple of minutes. Air Fryer Broccoli Parmesan is a great way to add something green to the table, and it's incredibly flavorful.
Seafood Lovers' Side Dishes
We can't forget about the seafood lovers! We're fortunate to live in a place where fresh seafood is practically a staple here in the Pacific Northwest. 
Seafood Mac and Cheese
A classic comfort food, consider serving this delicious take on mac and cheese as a side dish for Thanksgiving. You can even make it ahead and then reheat it right before it's time to eat. This recipe comes from Food Network's Kardea Brown, and it's sure to be a family favorite.
Easy Crab Cakes
Absolutely wow your guests with this crab cake recipe. It's the type of thing you'd order at a wonderful restaurant, yet it isn't hard to make and only takes 15 minutes. You can serve it as an interesting side or as an appetizer. 
Vegan Thanksgiving Recipes
If you're going to have some vegan friends or family members joining you for Thanksgiving, here are some interesting options. Additionally, there are many vegetarian dishes that can easily be made vegan thanks to vegan cheese, cashew butter, plant-based milk, and other ingredients that don't involve animal products. 
Crazy Vegan Stuffed "Turkey" Wrapped in "Bacon"
This Vegan Stuffed Turkey from vegan chef Gaz Oakley is eye-catching and fun to make. Vegetarians and vegans will enjoy this hearty, protein-filled dish.
Garlic Brussel Sprouts with Sriracha Aioli
Introduce some delectable greens to the menu with this Garlic Brussels Sprouts recipe. A creamy sriracha aioli complements the garlicky greens wonderfully. The spicy yet creamy sauce is sure to impress vegetarians and meat-eaters alike. 
Kid-Friendly Thanksgiving Side Dishes
We know that some kids and teens can be picky eaters. So, we've included two simple yet flavorful recipes that will hopefully get them eating something that tastes good and provides some nutrients. That way, everyone's happy and they aren't simply eating pie and ice cream nonstop. These dishes also add a pop of color to your table, which is always a plus.
Maple Glazed Carrots and Parsnips
Maple Glazed Carrots and Parsnips have a sweet maple aroma, which can entice kids right away. This recipe isn't challenging, and it only takes 25 minutes. 
Snow Peas with Butter and Lemon
A simple, yummy side dish, Snow Peas with Butter and Lemon only takes 15 minutes to make. It's not too exotic for a child's palette and butter and lemon zest make it extra tasty. While the toasted almonds are optional, they do provide a nice crunch so we suggest including them if you think your kids will like them.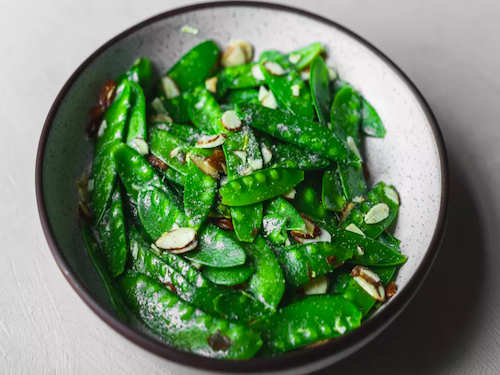 Sweet Potato Fries
Most people are fans of mashed potatoes, which is great, but sweet potato fries can be a fun addition to your Thanksgiving meal, and kids usually like them. This Food Network recipe from Jeff Mauro is easy to make, and Jeff shares tips for how to make them extra crispy.