A third-generation islander, Kelsie Thurrott has a background in counseling, marketing, and project management. Her varied skillset, local expertise, and excellent interpersonal skills make her a great advocate for buyers and sellers. We're so glad she has joined us here at Windermere Bainbridge Island. Learn about her interesting background, community involvement, and more in our Q&A.
What drew you to real estate?
I've always loved looking at homes. My mom used to take me around to open houses on the weekends for fun and whenever a neighbor would list their home or I'd visit a new friend's house we'd snoop on the county website to learn as much as we could about the place. Shortly after getting married, my husband and I went through a very rocky real estate transaction. It was through that experience that I learned how important it is to not only have a good agent represent you but one with integrity and your best interest at heart. I've always been drawn to professions centered around helping people and after having lived through such a trying transaction, I couldn't shake the desire to learn the ropes and do it better, advocating for my clients so their memories of buying or selling their home are positive and rewarding.
What unique professional experiences or skills do you possess that enhance your abilities as a realtor?
My education and career in counseling gave me an incredible foundation in reading people, empathizing, listening, and advocacy. These are skills I bring with me in all aspects of life, and I find them invaluable in Real Estate. My ability to understand my client's needs through each step of the transaction is imperative, and my insight into personality types gives me that extra edge when it comes to negotiations.
After switching careers to be closer to home, I took on a role in sales and marketing at the Bainbridge Athletic Club. I'd worked there in some capacity since the age of 16. I've always had a knack for marketing but initially, I thought I'd be awful in sales. I never felt comfortable pushing a sale. Whenever someone was on the fence, I'd send them away to think about it. I always encouraged them to check out the competition before making a decision. I wanted to be sure they were making the right decision for them to stick with a healthy workout schedule and lifestyle change. It was in this position that I was surprised to witness my natural compassion and connection to people serving as a key aspect in my success.
When we decided to start our family, I began working with my husband to grow our small island business, which specializes in metal fabrication. I have worn several hats, but my primary role in project management familiarized me with many of the ins and outs of home construction and renovation. I've formed valuable relationships with many of the builders on the Island and I've developed a meaningful understanding of the importance of collaboration.
My husband and I also went through an extensive remodel ourselves, so I have first-hand experience in the process and familiarity with permitting on Bainbridge.
What personality traits do you think are important in this profession?
I am a people person. When someone asks me about my hobbies I answer, "work and friends." I have always held a hefty dose of empathy and have been referred to as a naturally kindhearted person. But if you have ever played pickleball with me you'll see my fiercely competitive nature come out. I don't like to lose, and I don't like to be wrong, so I make sure I'm confident and fully prepared before stepping up to the table. I think all of these personality traits are important in this profession. But above all, I think the most important personality trait in Real Estate is integrity. You need to have the knowledge, tools, and the wherewithal to complete a transaction and negotiate the details, but integrity sets apart a good agent, from a great agent. My client's needs are first and foremost. Their best interest stays top of mind and drives every decision.
Which areas do you serve and what do you love about them?
I serve Bainbridge Island and the greater Kitsap Peninsula. I love most things about the PNW. The fresh air, incredible hiking trails, exploring the Sound to name a few. I've lived here my whole life so I may be a bit biased and perhaps not well-traveled enough, but I truly believe in the magic of this place. The dark winters and yes, the rain can seem like a lot come February, but I think it's that stretch of the season that makes the summers around here something truly special. I'm a cancer so for me, getting out on the water is the highlight of living here. We take our 1968 Hatteras to explore the peninsula and the San Juan Islands as frequently as we can. When we are home, we love playing on the beach or taking advantage of the numerous parks and trails our island has. Growing up in such a tight-knit community felt disadvantageous as a kid. But looking back, I am in awe at how lucky I am and I can't imagine living anywhere else (although snow-birding in retirement isn't completely off the table.) I'm fortunate to be surrounded by family, which makes staying an easy decision. I'm an islander through and through. I loved going to high school and having several of the same teachers that taught my mother. Now I get to walk the same trails with my children that I trotted down as a child. Both my husband and I grew up here and never left. I'm third generation and he is 5th so our roots run deep.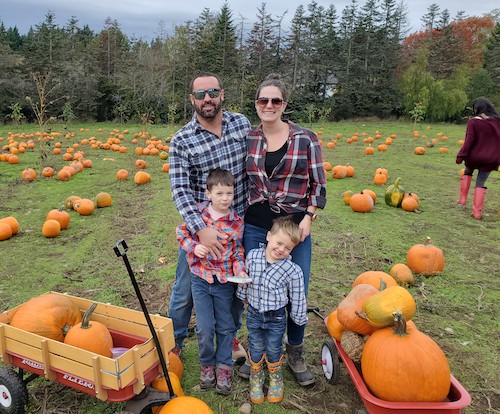 How are you involved in the community?
Owning a small business on Bainbridge Island gives us the opportunity to stay active in the business community. We do what we can to support local organizations and community projects. Last fall we had a special opportunity to partner with Urbanist Collective. Together, with a grant through the Kitsap Community Foundation, we organized a Unity in Community youth mural project. We donated our large gate as the canvas for the project. Urbanist Collective worked with a group of local youth to design an image to promote inclusiveness and love within our community. From there, a large group came together and participated in painting sections of the mural. Urbanist Collective taught parents and children of all ages about the art of spray paint and the technique of painting with that medium. It was a powerful weekend and a perfect representation of everything I love about our community.
What made you decide to work with Windermere?
I knew I wanted to work for a brokerage that promotes delivering value to its clients and the community as a whole. One that aligns with my morals and prizes "relationships, not transactions". Windermere does just that. Rooted in service, Windermere cares about the people it serves and the community they live in. I'm proud that my work will benefit the Windermere Foundation. I feel lucky to be a part of an office that inspires.
Is there anything else you'd like to share with us?
Outside of business, I have a wonderful husband I've been with since high school, two rambunctious boys that we absolutely adore, and a large pup named Charlie. In my off time, I love boating, biking, gardening, and visiting with friends and family.
We are so happy to have Kelsie on our Windermere Bainbridge team. You can learn more about her through her website and her Facebook page.