Bainbridge's real estate market slowed down for the holidays during our fourth quarter.  The market still favors sellers due to low inventory, and homes are still selling above the asking price.  We've compiled key highlights to keep you in the know about our local market.
News on Sold and Pending Homes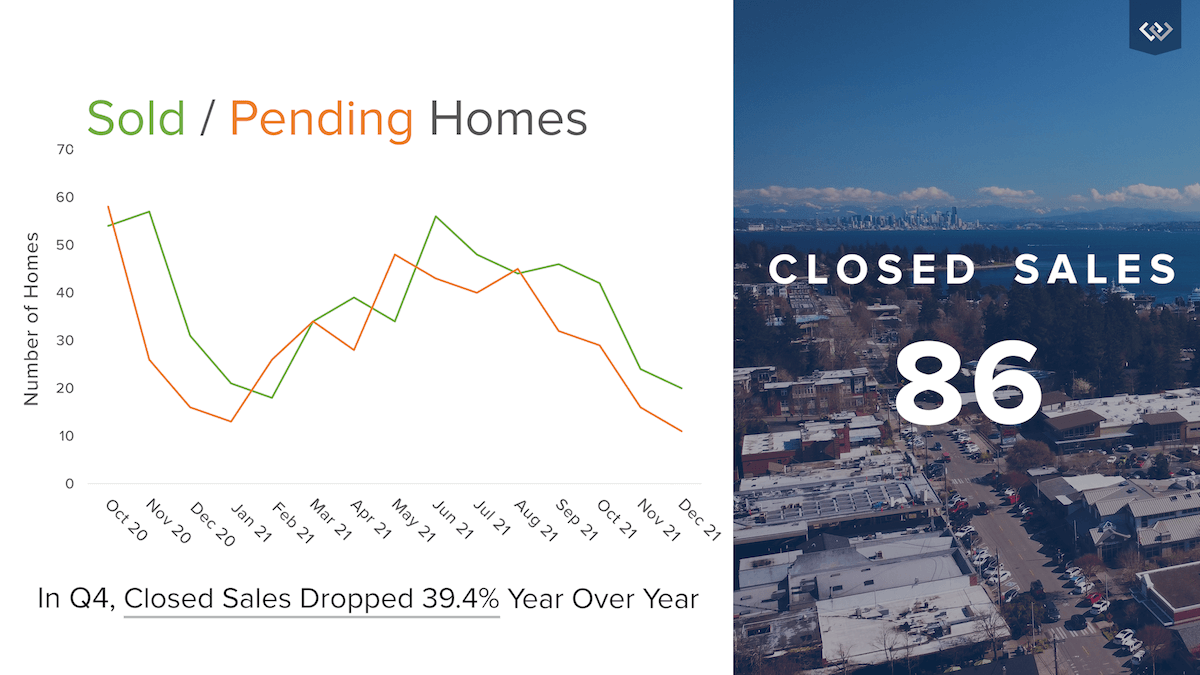 In the last five quarters outlined in the graph, 2021's real estate market started with the usual growth trend into the summer.  Now, we're seeing the seasonal downswing during colder months. However, home prices are still increasing due to demand and sold homes still outpace pending listings. The result is a strong seller's market. In the 4th quarter of 2021, we had 86 closed sales, which is a 39.4% decrease, year over year.
Still a Strong Seller's Market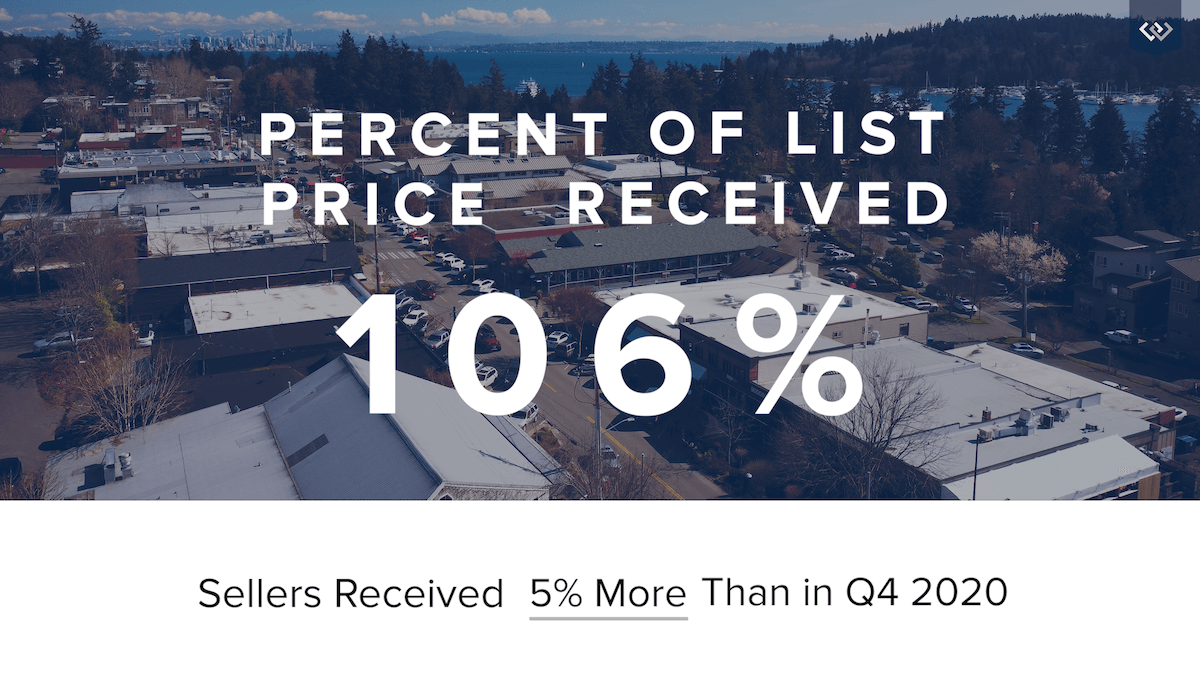 Bainbridge Island real estate demand was at a record high in the fourth quarter of 2021.  With the new era of remote work, many Seattle homebuyers are seeking the quaint island feel that Bainbridge offers. If you want to learn more about Bainbridge Island, check out our free digital guide. If you're interested in buying or selling, our local experts are here to help.
Listing Price vs. Sale Price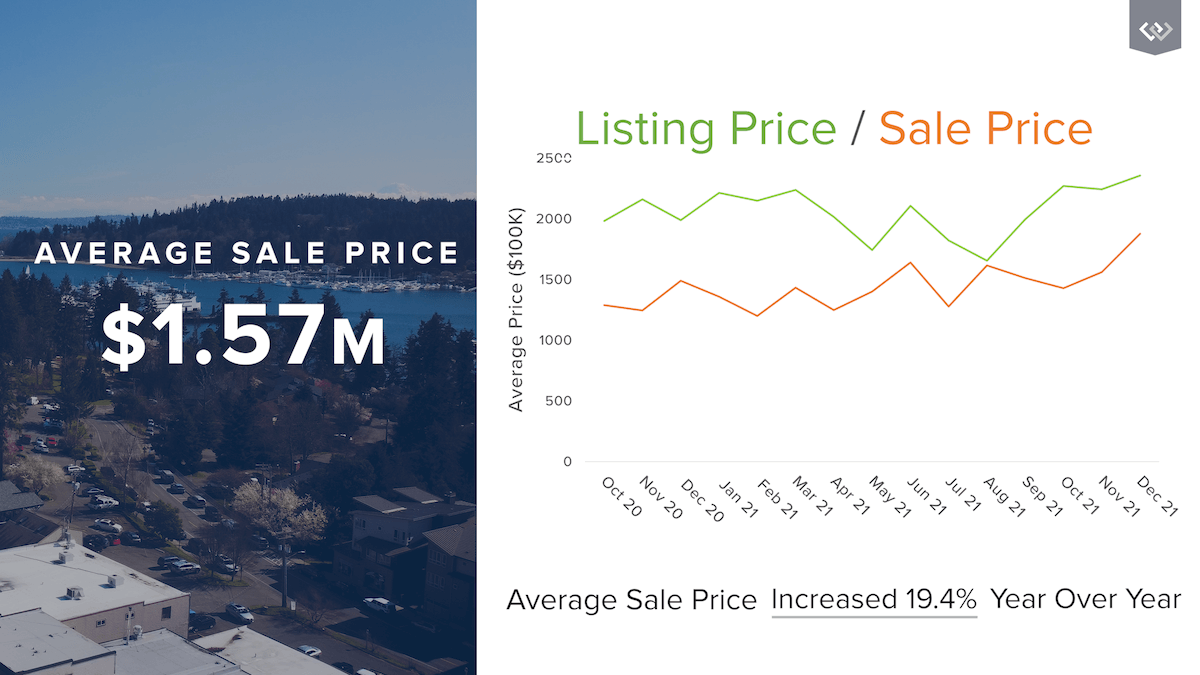 Although buyers continue to meet the competitive Bainbridge pricing, there just aren't enough homes available right now. As you can see in the graph above, the averages of listing and sale prices are starting to converge as demand stretches the cost of housing even further in favor of sellers. In our 4th quarter, we saw a 19.4% increase in the average sale price on Bainbridge Island, putting it at $1.57 million.
Insights from Our Chief Economist
In his most recent Monday with Matthew, Windermere's Chief Economist, Matthew Gardner, shares his market forecast for the coming year: "If everything goes according to my plan, you should expect to see the housing market start to move towards some sort of balance next year, but I am afraid that it will still remain out of equilibrium until at least 2023."  Gardner reminds us that the transition back to a balanced market will be a gradual shift.
While Matthew ensures us that he "doesn't see a housing bubble forming," he goes on to say "it would be silly to say that there aren't any issues in the housing market that concern me because there are and the biggest of which is housing affordability."  There is definite cause for concern among the millennial generation as they start "thinking about settling down and, possibly, having children" Gardner explains. "I wonder how hard it will be for many of them to be able to afford to buy their first home."  Millennials are currently the largest slice of the generational real estate market, so it will be interesting to see where affordability and demand intersect.
Overall, Gardner concludes with a high-level market analysis: "demand for ownership housing remains remarkably buoyant and, in fact, it is quite likely that demand may actually increase with the work from home paradigm that will start to gain momentum next year."  With dependable demand, real estate continues to be an excellent investment.