We're seeing some interesting shifts in the real estate market and Windermere's Chief Economist, Matthew Gardner, just came out with the third quarter Gardner Report for Western WA. So, let's take a look at some of the key findings for our region along with Gardner's helpful insights. And, if you have any questions, our highly-rated, local real estate experts are always happy to help.
Regional Economic Overview
Gardner states, "The addition of 110,000 jobs over the past 12 months represents an impressive increase of 4.9%." Additionally, Western WA's unemployment rate in August was 3.8%, which is .2% higher than at the end of Q2. County data is not seasonally adjusted, so that's probably the reason for the modest increase. Gardner goes on to say, "The labor force has not expanded at its normal pace, which is starting to impact job growth. Although the likelihood of a recession starting at some point this winter has risen, I am not overly concerned at this point; however, I anticipate businesses may start to taper hiring if they feel the demand for their goods and services is softening."
Western Washington Home Sales & Prices
These stats are taken directly from the Gardner Report.
In the third quarter, 19,455 homes traded hands, representing a drop of 29.2% from the same period a year ago. Sales were 15.4% lower than in the second quarter of this year.
Listing activity continues to increase, with the average number of homes for sale up 103% from a year ago and 61% higher than in the second quarter of 2022.
Pending sales (demand) outpaced listings (supply) by a factor of 1:6. This ratio has been dropping for the past three quarters and indicates a market moving back toward balance. The only question is whether it will overshoot and turn into a buyer's market.
When it comes to Western WA home prices, they rose an average of 3.6% compared to a year ago, and they were down 9.9% from the prior quarter. The current average sale price of a home in Western Washington is $748,569. Kitsap County's home prices rose 3% – 5.9%. Gardner comments on these numbers saying, "With the number of homes for sale rising and list prices starting to pull back, it's not surprising to see price growth falter. We are going through a reversion following the overstimulated market of 2020 and 2021. There will be some ugly numbers in terms of sales and prices as we move through this period of adjustment, but the pain will be temporary."
For a look specifically at Bainbridge Island's real estate market, watch our brief market update video.
A Note on Mortgage Rates
It's an unpredictable time for mortgage rates. "The Fed appears to be content to watch the housing market go through a period of pain as they throw all their tools at reducing inflation," explains Gardner. "As a result, mortgage rates are out of sync with treasury yields, which not only continues to push rates much higher but also creates violent swings in both directions. My current forecast calls for rates to peak in the fourth quarter of this year before starting to slowly pull back. That said, they will remain in the 6% range until the end of 2023."
Days on Market in Western WA
Average days on market during Q3: 24 days. This was 8 days more than in Q2 and 7 more days than in the same quarter of 2021.
Our county and King County were the tightest markets in Western Washington. Homes took an average of 19 days to sell.
Still a Seller's Market Though It's Shifting
While we're definitely seeing a shift in the market, it's still a seller's market. "A belief that the housing market is on its way to collapsing will keep some buyers sidelined, while others may be waiting for mortgage rates to settle down," states Gardner. "Whatever their reasons, I maintain that we will see a brief period where annual price growth will turn negative in several markets, but it is only because the market is normalizing. I certainly don't see any systemic risk of home values falling like they did in the mid-to-late 2000s."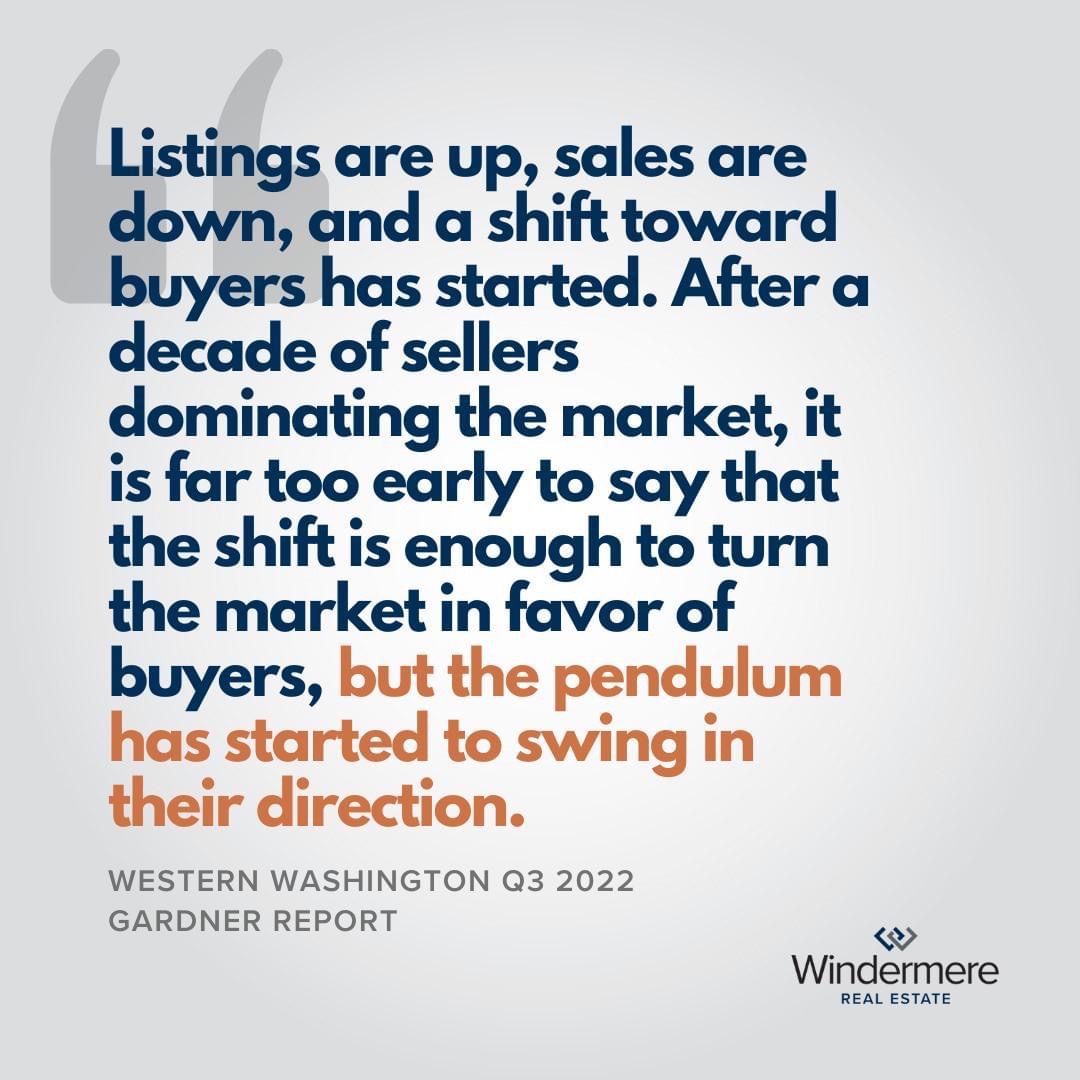 For more information, check out the full Western WA Gardner Report and Matthew Gardner's market news videos.