Now, more than ever, Windermere Bainbridge fiercely supports our beloved Bainbridge Island businesses – and we're asking you to join us. We're all experiencing some of the most challenging, unprecedented changes to what we know as normal life. We are grateful for a resilient real estate market on our beautiful island. But our hearts and actions support our vital, local-business culture. It's a large part of what makes our island so unique, and it needs support from all of us – right now.
SOS Bainbridge Island
The Bainbridge Chamber of Commerce has teamed up with the Bainbridge Island Downtown Association to create SOS Bainbridge Island. This informative community effort aims to save our stores and businesses. Its website includes updates on how you can safely shop, dine, and support local merchants. Windermere Bainbridge Broker, Jackie Syvertsen notes, "I love how Bainbridge businesses have evolved to stay open through the Covid crisis. They're happily creating distancing and extra safety features to accommodate."
According to the Bainbridge Chamber of Commerce, many businesses, especially on Winslow Way, rely on summer visitors and tourism to help them survive through the rest of the year. Since this year's visitor season was significantly quiet, we can all help now by shopping, dining, and supporting Bainbridge Island businesses.
Local Windermere Broker, Susan Grosten brings to light that "most of our businesses are owned by our own Bainbridge neighbors and friends, all who regularly add back to the community as locals. I've enjoyed so many of them, for 31 years and counting!"
How the Windermere Bainbridge Team
Supports our Community
Since 2005, a portion of every Windermere Bainbridge agent's commission is donated to the Windermere Foundation of Bainbridge Island. Each year, the foundation donates funds and provides scholarships and support to essential community service organizations on Bainbridge Island.
Additionally, we are passionate locals who regularly shop, dine, and support merchants within our community. Our Broker, Shannon Dierickx says, "I have so many great experiences with local shopping and dining. I'm an original island girl who loves to keep our local businesses thriving!" Broker Cheryl Mauer adds, "I love stopping in at Covet Boutique to pick up a special gift, or to find myself the perfect outfit or jewelry."
For our Bainbridge treats and dining favorites, the list is endless. Our marketing team notes a gamut including Bene Pizza, Streamliner Diner, Hitchcock, Treehouse Cafe, Sawatdy Thai Cuisine, Doc's Marina Grill, and so many more. We all have many dear, personal favorites on the island, and now is the time to support them all.
In addition to listing current updates on how restaurants and cafes have adjusted to serve the community, SOS Bainbridge Island's website also includes information on how many other businesses and services have shifted.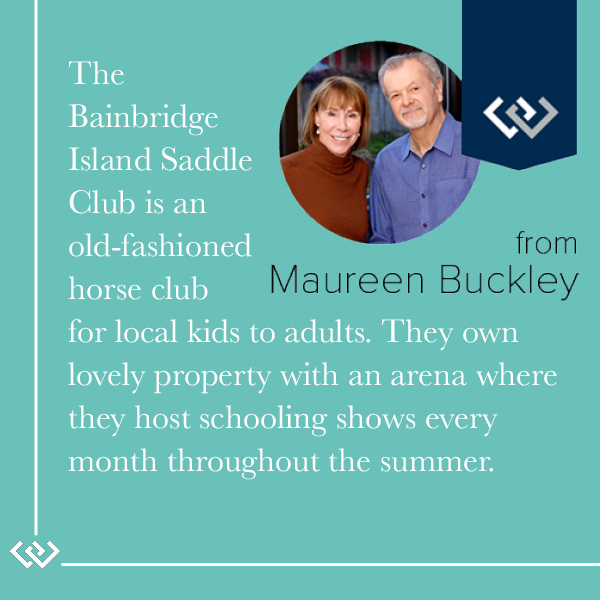 "One of my very favorite businesses on Bainbridge is Barrecor! Owner Emiliana and her wonderful instructors are offering their amazing classes online," raves our Broker, Susan Grosten. Another business that stands out to our team is the local non-profit, Bainbridge Island Saddle Club. The organization aims to promote good horsemanship and foster equestrian sports locally. Windermere Broker, Maureen Buckley appreciates its programs and favors that "it's an old-fashioned horse club for local kids to adults."
We are truly all in this together. The more we all support the Bainbridge Island businesses we love, the more we'll endure these trying times as a community.