Bainbridge Island's real estate market remains a strong seller's market. In our third quarter, we continued to see homes sell above the asking price. We also saw a similar increase in average sale price when compared to this time last year. We've compiled key highlights to keep you in the know about our local market.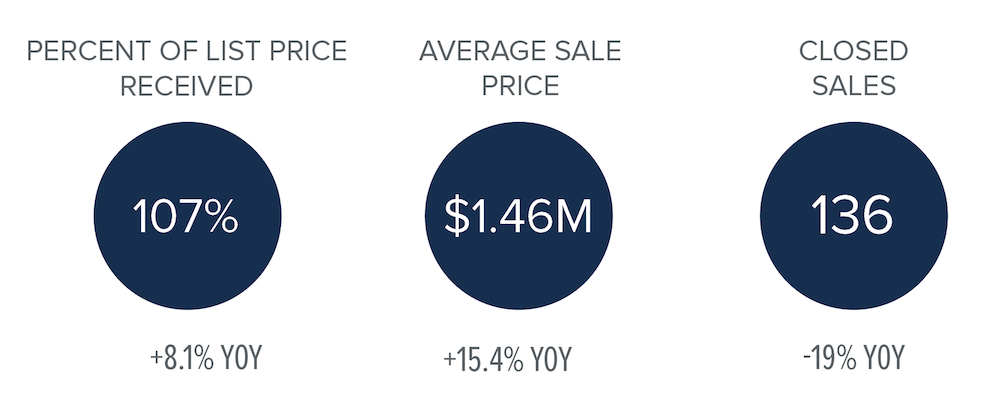 Bainbridge's Competitive Market
Bainbridge Island continues to get more competitive for buyers in this third quarter.  Many home buyers want to live near Seattle while enjoying beautiful Bainbridge, and remote work trends have increased demand.  However, the volume of homes on the market decreased year-over-year, making our seller's market that much stronger.  If you're looking to buy, our Brokers can help guide you through this competitive market. They know this market extremely well, they know the nuances of Bainbridge's neighborhoods, and they have excellent track records.
Market Data
In the last five quarters outlined in the graph below, the long-standing growth trend in sales volume is finally slowing.  Yet home prices are still growing and sold homes still outpace pending listings as a result of the increased economic demand.  As the season slows and inventory wanes, prices may level – effectively balancing out the market between buyers and sellers.  Or, at least they will start to shift toward a more balanced market.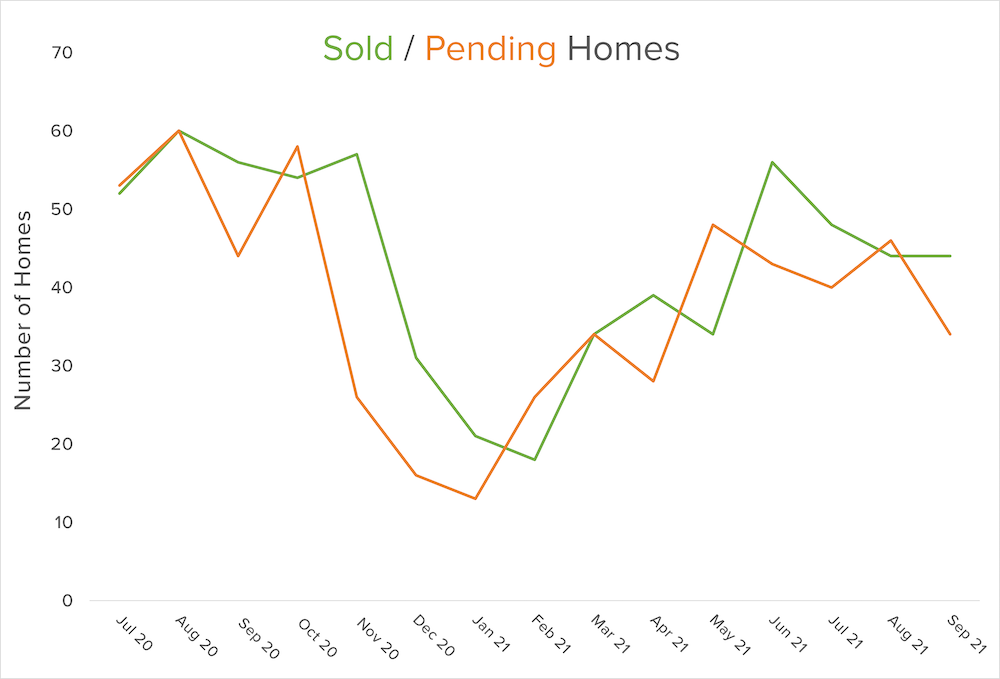 With our lower supply, we continue to see even higher prices. While many buyers are willing to meet the demands of Bainbridge Island's pricing, there just aren't enough homes on the market right now.  As you can see below, the averages of listing and sale prices are starting to converge as demand stretches the costs of housing even further in favor of sellers.
Home Purchase Sentiment Index: Insights from Matthew Gardner
In his most recent Monday with Matthew video, our Chief Economist delivered a comprehensive analysis of the most recent Home Purchase Sentiment Index figures put out by Fannie Mae.  The data comes from a survey containing approximately 100 questions on housing-related topics. Fannie Mae collected 1,000 consumer responses from across the country. As Matthew Gardner says, "It's the only national, monthly survey that's focused primarily on housing."
The survey shows that many Americans continue to think it is not a good time to buy because of the low supply and rapidly rising prices.  However, many feel it is a good time to sell as consumers predict home prices and mortgage rates will go down.  As Gardner explains, "most consumers continue to report that it's a good time to sell a home, but a bad time to buy. They most frequently cite high home prices and a lack of supply as their primary rationale…However, the good time to buy component did tick up for the first time since March."  While this is a recipe to shift towards a buyer's market, we'll see how things unfold in the coming months.
Gardner sums it up nicely: "The takeaways for me so far are that consumers tempered both their recent pessimism about home buying conditions and their upward expectations of home price growth."  So again, we are seeing the potential for a shift toward a more balanced market.