Bainbridge's market picked up in the first quarter of 2022. As was the case in 2021, it's a seller's market due to low inventory and high demand. Homes are still selling above the asking price and we're seeing multiple offer situations and many all-cash offers.  We've compiled key highlights from last quarter to keep you in the know about our local market.
Sold and Pending Homes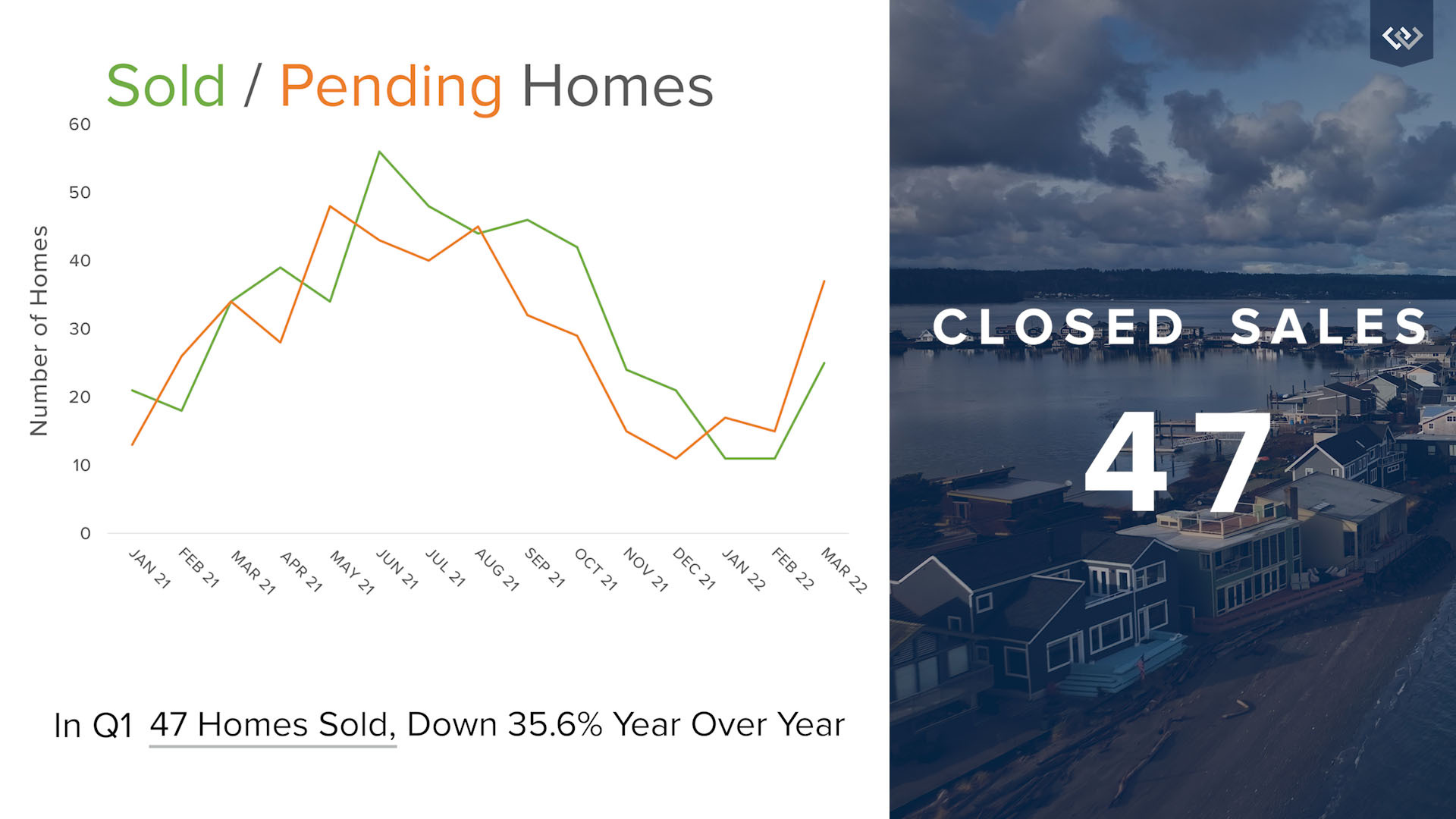 In the last five quarters outlined in the graph, 2022's first quarter is rising like the first quarter of 2021.  This follows the usual real estate market trend and we expect to see another hot market this summer. There's also a significant lack of inventory and there are many eager buyers, driving prices up and heavily influencing our seller's market. 
Bainbridge's Market Still Favors Sellers
Everyone is feeling the fatigue of low supply, which persisted in the first quarter of 2022.  But we expect the market to warm up as we head toward our busy summer season. More real estate activity lies ahead, and if you're thinking of selling, it's a great time to do so. If you're looking to buy, be prepared for the competition and know that having a local real estate agent at your side is extremely beneficial. 
Listing Price vs. Sale Price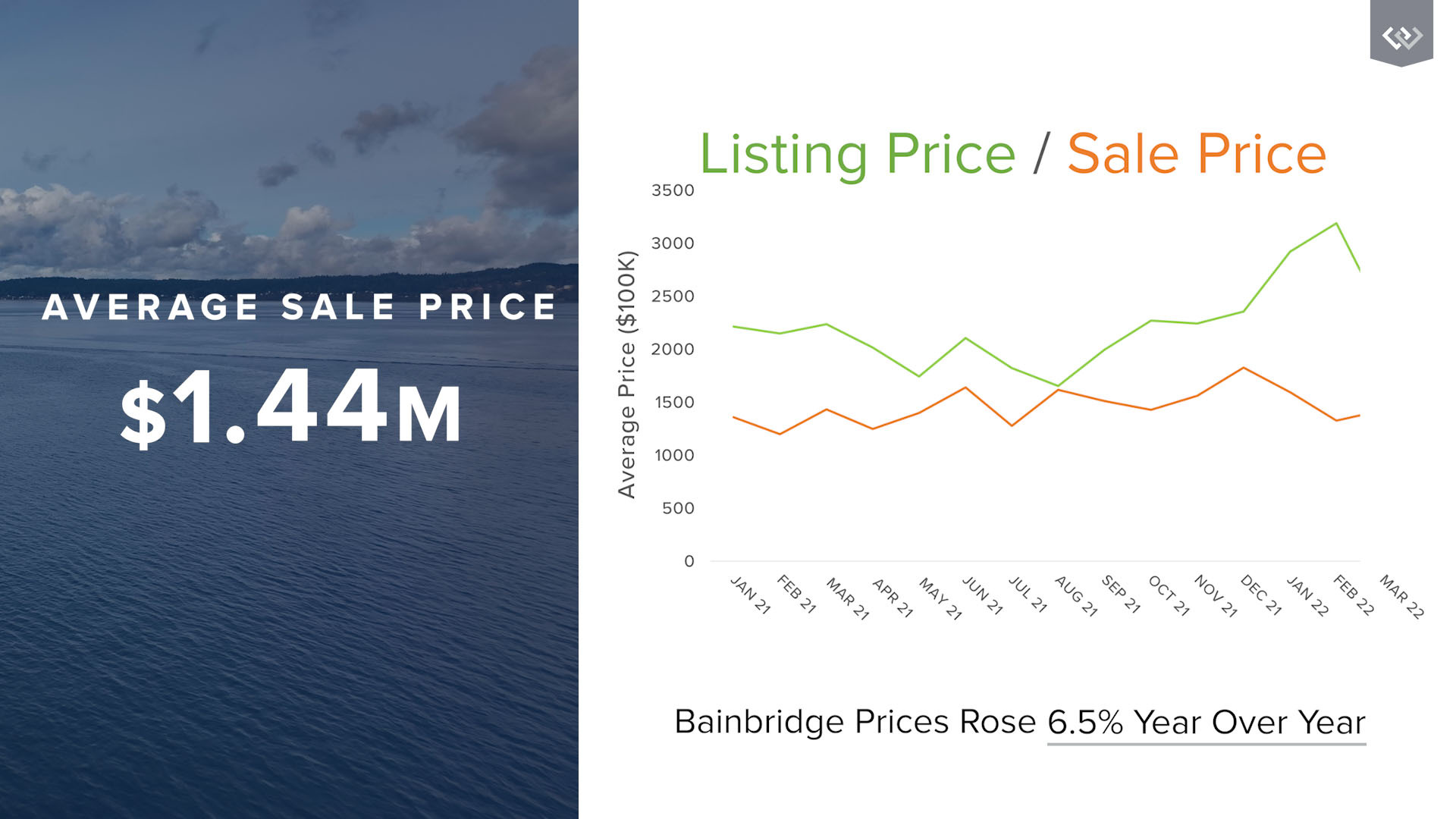 As a result of low supply, average prices rose 6.5% when compared to this time last year. They are expected to continue to rise as Bainbridge's buyers meet the pricing demands of sellers. And, the average sale price on Bainbridge Island is almost $1.5 million.
Insights from Our Chief Economist
Matthew Gardner, Windermere's Chief Economist, shared his Top 10 Predictions for 2022 in one of his recent Monday with Matthew videos.  Here's what Gardner predicts for 2022:
Prices will continue to rise

, though the pace of appreciation will slow. Gardner thinks it will be about 6% in 2022 versus the massive 16% rise of 2021.

Spring will be busier than expected

.  This will increase buyer demand, as buyers get more clarity in their new hybrid model combining remote and office work.

The rise of the suburbs

will also result from this work hybrid model.  Many buyers are moving within the same area they already lived in.

New construction jumps

since the cost to build has come down. 

Zoning issues will be addressed

.  

Climate change will impact where buyers live

. People will focus more on how safe a location is in relation to natural disasters.

Urban markets will bounce back

after the demand drop from Covid. 

A resurgence in foreign investors

will return since the travel bans were lifted last November. The demand will rise as long as our borders remain open.

First-time buyers will be an even bigger factor in 2022

.  This year, 4.8 million millennials will turn 30, the median age of American first-time buyers.  Additionally, first-time buyers will be looking for cheaper markets.

Forbearance will come to an end

and that will be okay. It was well thought out, and as Gardner says, "as of recording this video, there are now fewer than 900,000 owners still in the program."  Hopefully, this continues to drop.
For additional information, check out Matthew Gardener's Market Update by region.