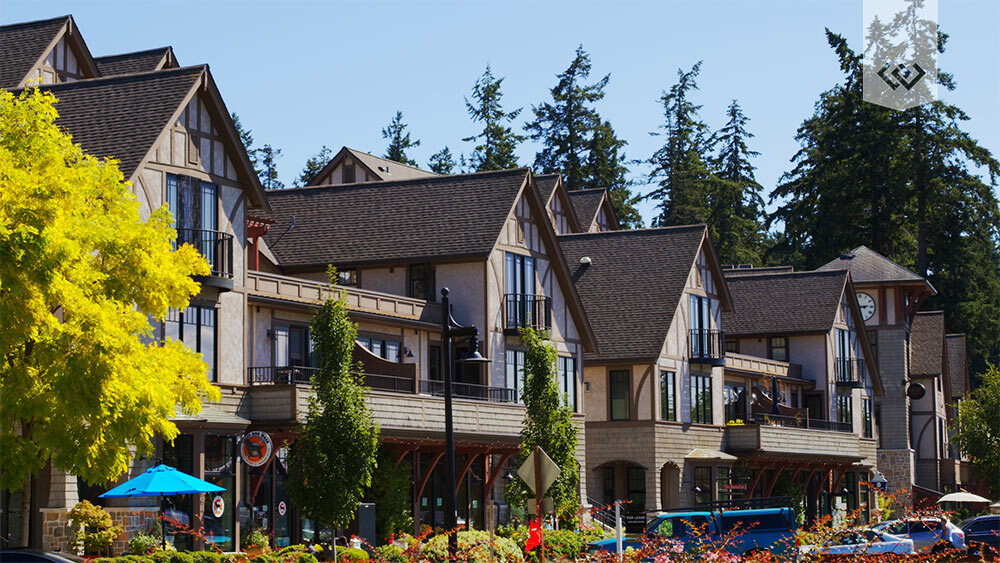 Bainbridge Island's stunning views and small-town charm attract tourists and buyers alike. It's also just a quick 35-minute ferry ride away from Seattle. If you are thinking of moving here, it's best to get an idea of what distinguishes one part of the island from another. Across the island, you'll find wonderful parks, beaches, hiking trails, and top-tier schools, but there are many different neighborhoods and types of homes. From downtown condos to family-owned farms, wooded retreats to waterfront estates, Bainbridge has an eclectic mix. Here's an overview of the northern, central, and southern parts of the island. 
1. North Bainbridge Island
The Agate Point area is near Agate Pass Bridge, which connects Bainbridge to the rest of the Kitsap Peninsula. There are many homes in the woods and there are others that have water views. It's also close to the Bloedel Reserve. A 150-acre island gem, the Bloedel Reserve was named one of North America's Top 10 Botanical Gardens in 2020.
Another notable neighborhood is Port Madison. Homes typically have waterfront views and a New England feel. They're also conveniently close to the Port Madison Yacht Club, and Fay Bainbridge Park, which has over 1,400 feet of shoreline. This area is also home to the newer Hidden Cove Estates, which has acres of open space and a waterfront park.
If you're looking for a home with a view of the Olympic Mountains that's also a waterfront property, consider Manzanita Bay. It has sandy beaches and it is near Meadowmeer Golf & Country Club and 90-acre Battle Point Park.
For a more rural take on island life, Rolling Bay is a quaint community with many homes on acreage. It's a historic farming area and it's near the central part of the island. So, you can easily get away from it all yet still be just a ten-minute drive from downtown Winslow.
2. Central Bainbridge Island
Central Bainbridge is where to go if you prefer a more urban lifestyle since it's the economic center of the island, and where the ferry to Seattle is located. Manitou Beach and Murden Cove are perfect places to find a waterfront property with a view of the Seattle skyline.
Wing Point is another popular neighborhood with a variety of homes. Many houses are near Wing Point Golf & Country Club, and some have views of Eagle Harbor.
The cultural center of Bainbridge Island is downtown Winslow. It has interesting boutiques, award-winning restaurants, art galleries, and museums. Thanks to the highly engaged Bainbridge Island Downtown Association, there is never a dull moment. There are many local events including outdoor summer concerts, a great farmers market, and much more. Many properties are within walking distance of Winslow Way, including single-family homes and contemporary condos.
3. South Bainbridge Island
This area has excellent sun exposure and many homes in these neighborhoods have water and/or mountain views. This includes homes in Crystal Springs and Point White. Rockaway Beach and Port Blakely are also popular neighborhoods and there are many low bank waterfront homes there. Additionally, Port Blakely has newer homes built in the early 2000s. 
Lynwood Center provides islanders on the south side with their own little downtown, and it's home to the historic Lynwood Theatre. The surrounding area has grown in recent years with new developments and the renovation of Pleasant Beach Village. You'll find a variety of shops and restaurants and it is unlike any other area, thanks to its Tudor-style architecture and unique history.
Near the southern tip of the island lies Fort Ward State Park, a 137-acre marine park with over 4,000 feet of shoreline on Rich Passage. The large Fort Ward neighborhood connects to part of Pleasant Beach Drive, which is often referred to as the Gold Coast of Bainbridge since it has many gorgeous, low bank waterfront homes on expansive lots.
After learning more about our island's neighborhoods, you might be drawn to many of them for different reasons. Can you really go wrong when it comes to living on Bainbridge Island? We don't think so. Each neighborhood is beautiful in its own way. It's simply a matter of finding which one fits your wants and needs – and then finding the perfect home to match.
For more information about our area, check out our Newcomer's Guide to Bainbridge Island. In it, you'll find videos, articles, and helpful links to learn about our neighborhoods, schools, outdoor activities, housing prices by city, local home buying resources, and much more.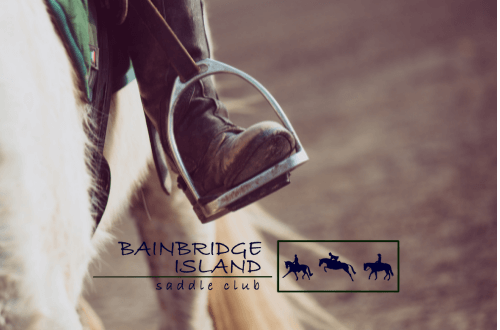 The volunteers of Bainbridge Island Saddle Club (BISC) make equestrianism accessible to locals. Powered by the efforts of community members, BISC provides a family-family environment for beginners and experienced riders to come together. 
Take it from one of Windermere's Brokers Ashley Mathews. "Bainbridge Island Saddle Club is such a hidden gem in this community. Riders come from barns all over Kitsap to compete in the safe and fun schooling shows. Many participate in Pony Club and even learn archery while on horseback. I have had some of the best times riding in Saddle Club shows and enjoy peaceful walks with friends on the trails. We are so lucky!" 
Bainbridge Island Saddle Club's Mission
Bainbridge Island Saddle Club is a non-profit whose mission is to promote good horsemanship and foster new equestrians. They frequently host a variety of educational activities such as schooling shows and clinics for children and adults.  
The schooling show series includes hunter-jump and dressage. Their offerings run from spring to fall. Then the community comes together with an annual awards banquet to celebrate and honor the members' achievements. Additionally, families from all over Kitsap County participate in their educational clinics to gain experience with their horses. 
"It's a great local horse club for beginners to experienced riders. Volunteers do everything from setting up for the shows, flipping hamburgers and tallying scores. They own acreage, a nice arena, and a snack shack and do monthly horse shows from spring until October. It is located next to Manzanita Park, which has 200 acres with groomed trails," says Maureen Buckley, Managing Broker.
Get Involved
Bainbridge Island Saddle Club is funded through membership fees, event fees, and community members' donations of time, money, and expertise. An annual membership at BISC comes with multiple benefits such as discounted rates for shows and clinics, invitations to special events, and the chance to win points toward year-end awards and prizes. 
Unfortunately, the effects of the pandemic pushed back many facility improvements. Thankfully, last year Bainbridge Island Saddle Club joined One Call For All's non-profit network. One Call For All supports over 100 non-profits on Bainbridge Island through their annual Red Envelope Campaign. The campaign decreases the direct mail solicitation and cuts down on every non-profits fundraising costs. If you'd like to support Bainbridge Island Saddle Club, you can make a donation online.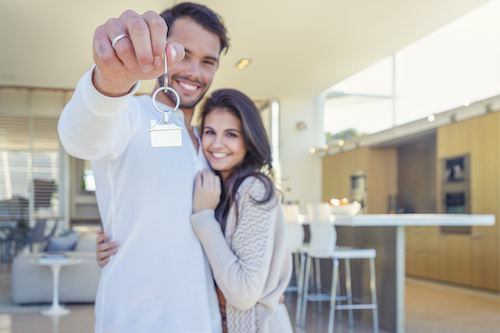 Many buyers are scrambling to secure their dream homes, especially since we have such a strong seller's market here on Bainbridge Island. Multiple offer situations have become very common. Additionally, our agents know of many situations in which buyers are waiving inspections or are outbid by price or by all-cash offers. Not to worry, our local experts are here to help. Here are four tips and insights.
1. Make Sure You Can View Homes Right Away
"Be ready to view homes ASAP so you don't miss out on getting a showing appointment," says Broker Diane Sugden.
Many homes are only on the market for a matter of days. They come and go quickly, so there is little time to debate. Make sure you are prepared to adjust your schedule as needed before you start looking at listings. Make a list of all of the neighborhoods/areas you are open to, as well as any must-haves and deal-breakers for you. This will save you time and help you view the right homes quickly with a focused approach.
2. Don't Underestimate the Power of Local Experts
"Work with local experts! From your lender to your realtor to your closing escrow team. Professional history and work ethic are critical in crafting a strong offer where the seller can take comfort knowing their home will close on time, with no surprises," says Susan Grosten, Managing Broker.
Undoubtedly, a real estate agent who knows the local market, the community, and the right vendors will be a tremendous help. They also have an established track record and are skilled negotiators. It's not uncommon for experienced local agents to have worked with the agent representing the seller, which can be to your advantage. From lenders to home inspectors, home repair crews to community resources, local agents' connections can help you in many ways. 
3. Get Pre-Approved Locally
"Get yourself pre-approved with a LOCAL lender. This will serve you well as the listing broker will want to assure their sellers that the buyer can close. Most agents prefer to work with a local lender who has a proven track record and is easily accessible," advises Broker Diane Sugden.
Getting pre-approved with a local lender will help the sellers feel great about your offer. Taking this step can make a difference, especially since they'll want to close as quickly as possible. 
4. Do Your Due Diligence
Make sure to really analyze different aspects of a property that you're looking to buy. It shows you're really ready to buy and can help distinguish you in a multiple offer situation. "In one instance, the sellers chose my clients because of the due diligence they did before placing their offer on the house. This pre-inspection gave my clients information on the condition and functionality of the home. Additionally, it gave the sellers confidence that my clients were serious, did their due diligence, and presented a solid offer," says Broker Jenn Herrmann.  Sellers do not want to waste any time. Anything you can do to prove that you won't pull your offer at the last minute will give them peace of mind. 
To learn more about our current market, watch our video below with stats from this year's first quarter. For more in-depth information, read our First Quarter Market Review.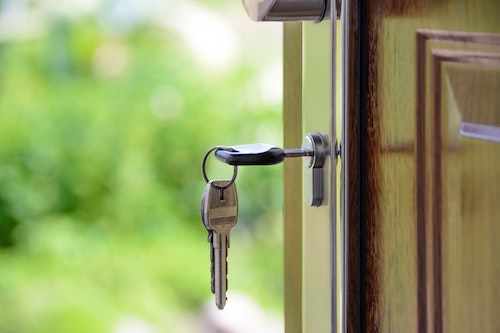 Bainbridge's real estate market is picking up after the winter slowdown. We've compiled key highlights from our first quarter to keep you in the know about our local island market.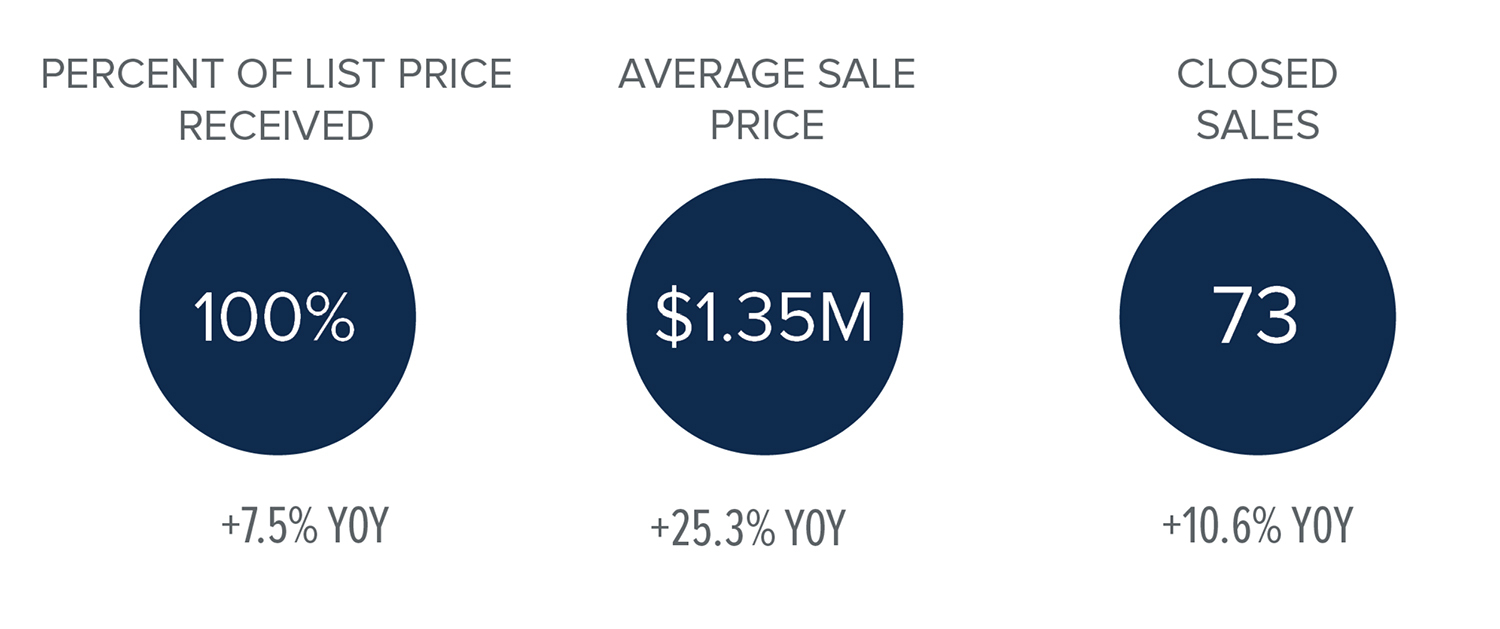 Our Strong Seller's Market
Bainbridge Island has a very competitive market right now, and we just had a strong first quarter.  With Bainbridge's quaint island feel and its proximity to Seattle, it's very appealing to people moving away from bigger cities as COVID-19 changes the way we work. There are still many eager buyers outnumbering sellers as inventory remains low and demand remains high. Our Brokers can help navigate this competitive market. We've seen many situations where buyers are outbid either by price or by an all-cash offer. Having a local expert as your guide can help you achieve success.
In the last five quarters outlined in the graph below, you can see that a similar growth trend in volume is repeated when comparing 2020's first quarter to 2021's first quarter.  We saw quite a spike this past quarter from January to March. Get ready for the market to continue to heat up as we move from spring to summer.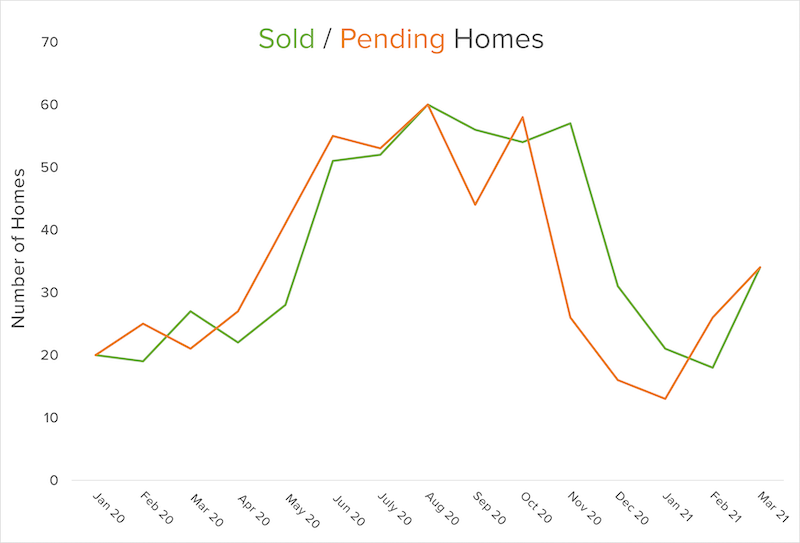 With our lower supply, we're seeing even higher prices. And, many buyers are willing to meet the demands of Bainbridge's pricing. As you can see below, the listing and sale prices both continue to rise as sellers benefit from our inventory shortage.  We're beginning to see an affordability ceiling in which some people looking to buy on Bainbridge Island aren't able to do so.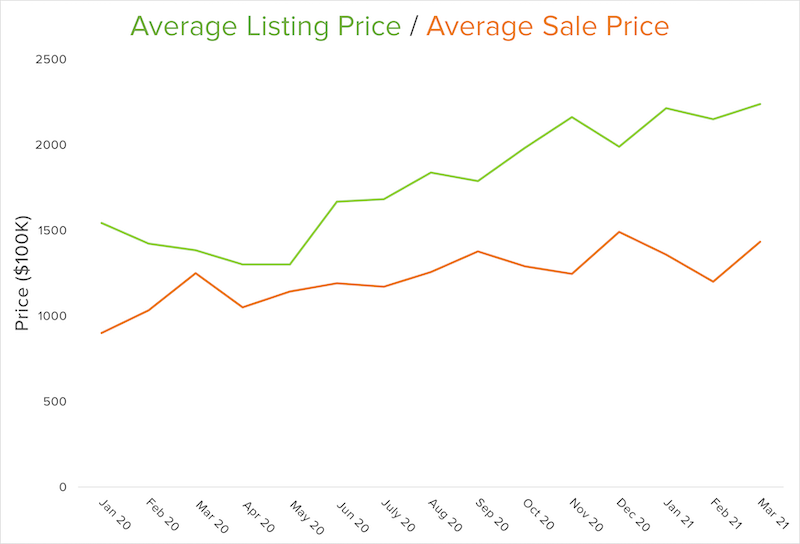 Affordability Issues and Market Insights
Matthew Gardner, Windermere's Chief Economist, continues to track this affordability ceiling in his most recent Housing and Economic Update: "If the pace of home price growth continues, many households will start to be priced out" of what people can actually afford.  As Gardner points out, we need more supply, and we need home prices to drop to alleviate this market strain.  
Unfortunately, that might not happen fast enough for many hopeful homebuyers to make their dream a reality. Gardner reminds us that the cost of materials, recent storms, and the current housing market prices have all added to the cost of building new homes. This, in turn, will add to the listing price.
Additionally, Gardner points out that mortgage rates have risen after "a jump in bond yields has led rates to spike" as the country re-opens and economic activity increases. The resulting potential inflation causes the 10-year treasury interest rates to rise in hopes of attracting more buyers.  However, it is still far below standard rates and shouldn't be a concern for buyers right now.
Ultimately, it's still a strong Seller's Market with an overall low supply and high demand. We expect to continue to see issues with affordability as prices continue to climb.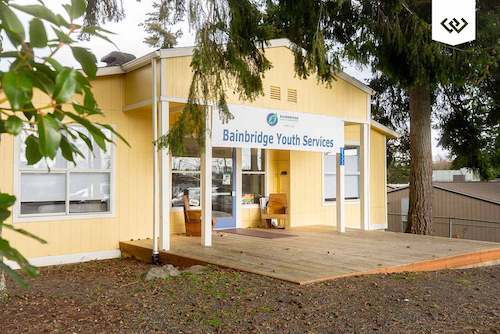 Since 1970, Bainbridge Youth Services (BYS) has focused on young adults' social and emotional wellbeing. As a proud community partner, we strongly support the vital work that their staff and volunteers do. From their youth outreach events to the services they provide, they are impacting many lives. 
History of Bainbridge Youth Services
In 1962, youth counseling was only available in Bremerton, making it difficult for young adults on Bainbridge Island to find mental health services. Bainbridge residents created Bainbridge Youth Services to provide a safe space for the community's youth. BYS was monumental in supporting young adults on their mental health journey. Taking inspiration from Bremerton's Child Guidance Center, BYS started a confidential counseling program, and their programs and events grew over time. Their offerings include Summer Work Internships in partnership with the Rotary Club of Bainbridge and the Peer Tutoring Program.
Our Windermere Bainbridge Island colleagues greatly appreciate these important programs. "I've worked with BYS in the past through Raising Resilience, and I've supported BYS's programs and events. I see tremendous value in their on-site, free counseling services and their student empowerment events. Students have shared very moving testimonials at fundraising breakfasts," says Broker Julie Miller, M.Ed. 
Community Impact
2020 was a challenging year for many organizations across Kitsap County, but that didn't stop BYS. In 2020, BYS shifted focus to virtual events in order to continue supporting youth on Bainbridge Island. "We have been so impressed by how the youth in Kitsap County are so resilient during the pandemic. BYS's counseling services have given youth a safe place to explore their feelings around the pandemic, grieve over missing events, friendships, and in-person learning," says Courtney Oliver, Executive Director of Bainbridge Youth Services. "Our youth have persevered through creative outlets like the creation of a Pandemic Bucket List and Pen Pal letters." 
In 2020, Bainbridge Youth Services provided 414 youth with counseling services and skill-building programs, served 161 students of all ages through Peer Tutoring, recognized 16 youth through the Compassionate Act Celebration, connected 118 students to Career Exploration Services, and worked with 342 parents in Parent Education programs. 
How You Can Get Involved
Bainbridge Youth Services welcomes community members' support. To get connected, visit their Get Involved page, where you can volunteer, share ideas, and nominate youth. "Consistently offering free counseling, employment help, tutoring and so much more has proven to literally save lives on Bainbridge Island," says Broker Shannon Dierickx, who is a former BYS board member. "BYS believes in our youth and being a small part of this organization is one of my proudest endeavors." Bainbridge Youth Services is part of the fabric of our strong community, and we thank all those involved for their continued efforts to support and empower future generations.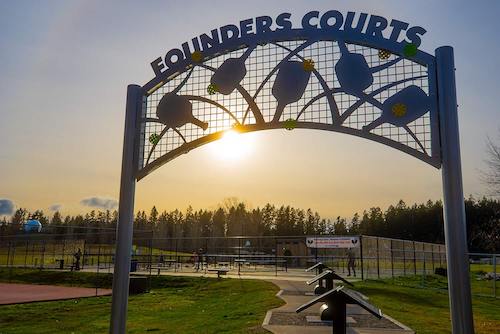 If great schools top the list of what draws new homebuyers to Bainbridge Island, great parks aren't far behind. With more than 1,500 acres of public park land and a trails system that stretches 40 miles in all directions, exploring and enjoying Bainbridge parks goes to the very heart of island living.
Just ask Windermere Bainbridge Island Broker Jason Shutt. Serving on the board of the Bainbridge Island Parks Foundation, Jason sees firsthand the payback that comes from the community's investment in parks and trails. 
"I grew up across the street from a large urban park and spent vacations going to national parks. So recreation is in my blood," says Jason. He lives near Winslow town center with his wife Mairead and their three children. "I joined the Parks Foundation to ensure I live in a place that gives these same opportunities to others."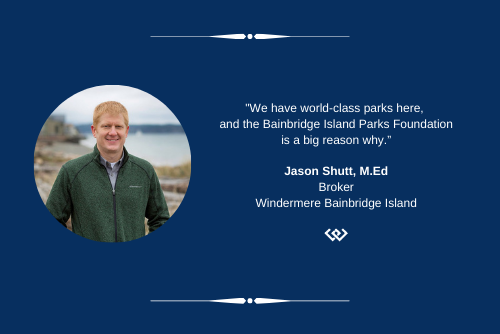 An Island Rich in Parks
The island's sprawling park system is managed by the Bainbridge Island Metro Park & Recreation District, a municipal agency. But islanders consistently ask for amenities above and beyond what general tax funding affords. That's where the Bainbridge Island Parks Foundation comes in.
Closely aligned with, but independent from the Park District, the nonprofit Parks Foundation has raised more than $1,000,000 in private funds over the past five years. All funds raised have been for parks and trails projects, which benefit young and old alike. The Foundation led the development of Owen's Playground, the island's first accessible playground for kids of all abilities, at Rotary Park. 


Photos of Owen's Playground by Leo Phillips.
The new Pickleball Founders Courts at Battle Point Park opened last summer, built by Bainbridge Island Metro Park & Recreation District with support from the Parks Foundation. The six dedicated courts and plaza are pickleball's first-ever permanent home on Bainbridge, honoring the game that was invented on Bainbridge Island in 1965.
Various Initiatives and Programs
The Foundation's Community Grants program has supported countless smaller projects, from the high school sailing team's fleet to diving boards and water stations at the Aquatic Center. Joe Richards, a Windermere Bainbridge Island Managing Broker and 22-year resident, has been involved with the Aquatic Center for over nine years and knows first-hand how beneficial it is. "The Masters swimming program, under the leadership of our world-class coach April Cheadle, has exceeded anything I could have hoped for. Thank you BI Parks for providing this person, this program, and this place for our community."
The Foundation's support also extends to environmental stewardship and restoration year-round, from Blakely Harbor Park to the Grand Forest, to smaller neighborhood parks islandwide. This is done through the Summer Trails Crew, Nonprofits Helping Parks, and other programs.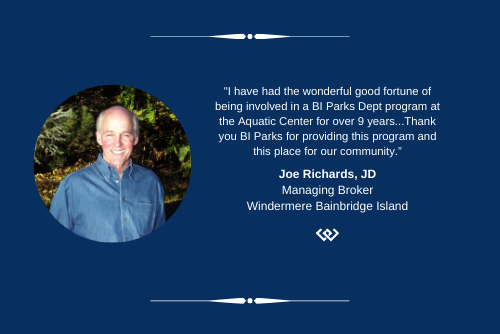 The Foundation's current initiative, KidsUp! The Next Generation of Play at Battle Point Park is rebuilding the original KidsUp! as another inclusive, accessible playground. The centerpiece will be a giant, one-of-a-kind ferry boat play structure with climbable Orca whales. They will be "swimming" nearby to delight and educate kids about the natural environment of the Salish Sea.
"The more you learn about the Parks Foundation, the more you have to be impressed with its impact. Serving on the Foundation board has certainly opened my eyes," Jason says. "I'm glad to share it with my clients, colleagues in the real estate community, and anyone else who asks. We have world-class parks here, and the Bainbridge Island Parks Foundation is a big reason why."
The Leader in Trails
When it comes to Bainbridge's trails, you can quickly see Bainbridge Island Parks Foundation's impact. The Foundation works with the Park District, the City of Bainbridge Island, and other stakeholders to plan and fund new trails connecting parks and neighborhoods. Soon you'll be able to hike from Winslow all the way to Gazzam Lake Nature Preserve – an unprecedented cross-island route. It's sure to be a real draw for visitors. And, it's already drawing people to the island. Online guides like TripAdvisor are full of testimonials from around the country, including hikers wowed by our trails.
Current and Future Benefits
The Foundation is about to launch a major Trails Campaign. This will fund the development of 10 miles of new trails over the next five years. With museums, restaurants, and other cultural spaces largely closed down and/or limited due to the pandemic, many of us have turned to the outdoors for connection and health. No matter where you live on Bainbridge Island, there's a park or trail near you. The Bainbridge Island Parks Foundation has probably done something to make it better.
"COVID has really brought the importance of our Bainbridge parks into focus," says Jason, who co-chaired the Sakai Park bond campaign, to create the 23-acre park five years ago. "The lockdown and social distancing have kept us all pretty close to home for the past year. But we have our parks and trails as an outlet to stay active and healthy and grounded. Our community is extremely fortunate, and it shows what a great investment our parks have been and continue to be." 
You can find out more about the Bainbridge Island Parks Foundation on their website, and you can support a park project that's important to you.
Learn More about Bainbridge Island
If you'd like to learn more about our wonderful island community, check out our Newcomer's Guide to Bainbridge Island. In it, you'll find videos, articles, and helpful links to learn about our neighborhoods, schools, outdoor activities, local home buying resources, and much more.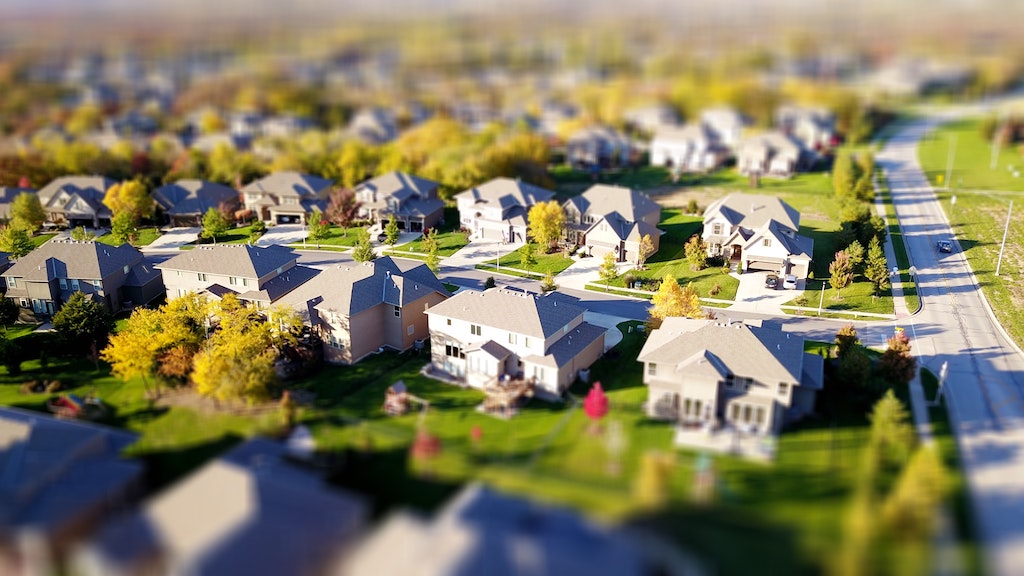 Bainbridge Island's real estate market finished 2020 with a strong fourth quarter. We've compiled key stats below to provide a comprehensive review of our local market, as well as insights and a 2021 market forecast from Windermere Real Estate's Chief Economist, Matthew Gardner.
Our Strong Seller's Market
It's still a strong seller's market here on Bainbridge Island. Inventory remains low while demand is high. Buyers should be aware that the market is in a seasonal slowdown, but not as slow as expected, given COVID-19. There are still many buyers looking to move away from Seattle, but still remain close by; inventory remains low, giving the advantage to sellers. Our Brokers have seen an increase in situations where some buyers are outbid either by price or an all-cash offer.
In 2020's fourth quarter, the average sale price on Bainbridge Island was up 12.9% year-over-year at a very strong $1.315M. Sale prices continue to hover close to listing prices, indicating strong demand.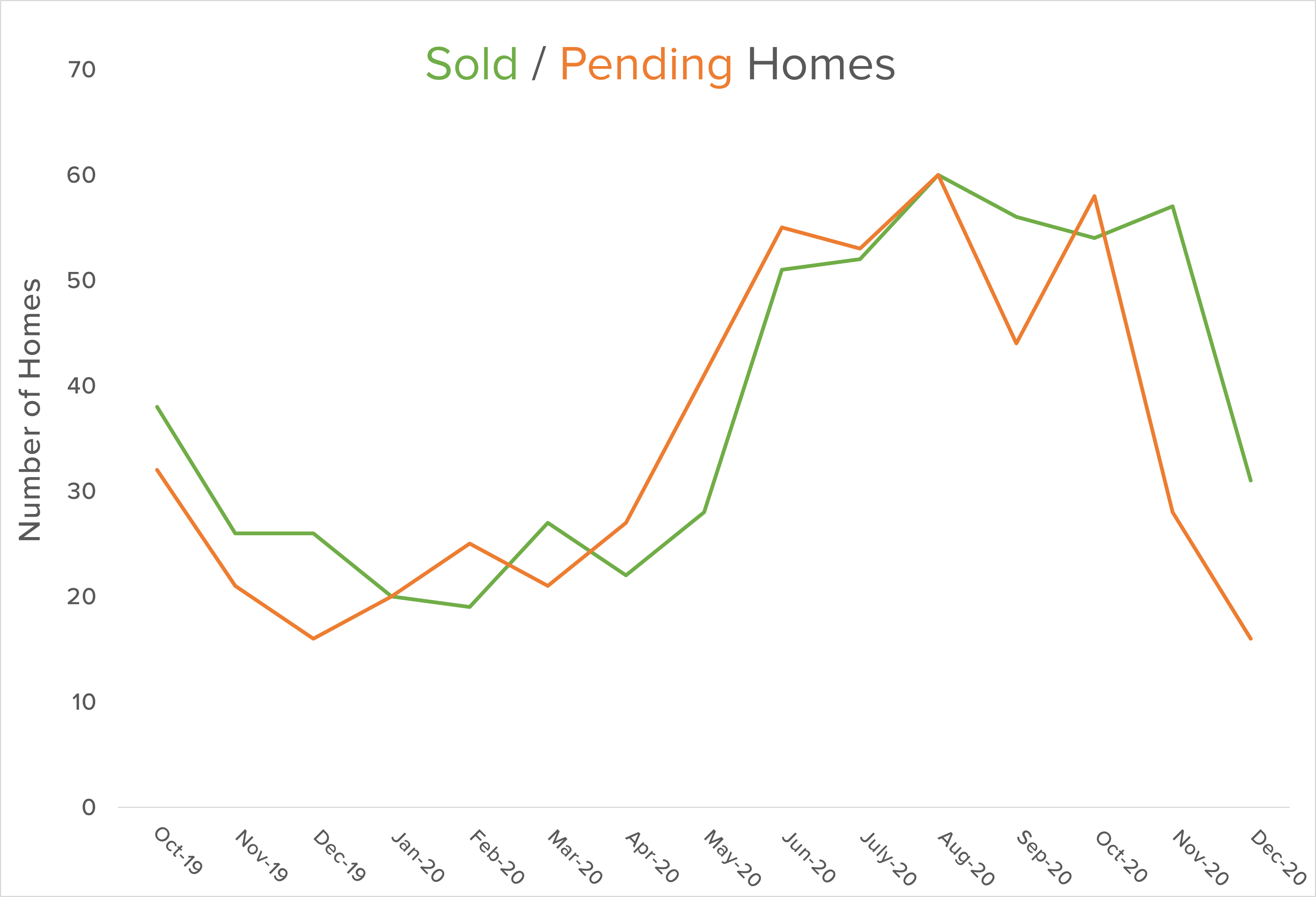 2021 Market Forecast
In his final Monday with Matthew video of 2020, our Chief Economist, Matthew Gardner, shared his 2021 market forecast. He's optimistic and for some good reasons.
First off, Gardner expects mortgage rates will not rise significantly on a local level, nor will they vary significantly throughout different regions across the U.S. Since mortgage rates are heavily tied to 10-year treasury maturity rates/yields, rates shouldn't rise significantly until the entire market recovers from the COVID-19 slowdown. Another great sign is that Gardner expects home sales will grow, from 5.55% in 2020 to 5.93% in 2021. That's "to a level we haven't seen since 2006," Gardner explains.  With the continuation of historically low mortgage rates and the consistent increase of home values, 2021 looks bright.
"No! There isn't a housing bubble forming. But price growth will slow & sellers may feel like it's a collapse … it isn't collapsing, it's just normalizing."
Matthew reminds us that there are pitfalls to be wary of in this strong market. First and foremost: "we need more inventory."  With the shuffling to new homes, and the huge wave of "first-time buyers [that] will continue to be a major player in the housing market," many are making moves in a flood that will not persist. Buying during the pandemic will slowly settle. People are expected to stay in their homes longer, especially homeowners who have chosen to refinance. House values will rise due to the lack of supply, and that may price out many buyers who want to purchase in our area. 
Western Washington's Market Report
Total Sales: 26.6% increase from Q4/2019, but 8.3% lower than Q3/2020
Homes for Sale: 37.3% lower than Q4/2019, and 31.2% lower than Q3/2020
Pending Sales: up 25% from Q4/2019, but 31% lower than Q3/2020
WESTERN WASHINGTON HOME PRICES
Average: $617,475 (up 17.4% from Q4/2019). This continues the trend of above-average appreciation of home values.
Interestingly, prices between Q3 and Q4 of 2020 only rose by 1%.  Is there a price ceiling we're reaching?
Mortgage rates will stay competitive as the market continues to charge toward a price ceiling and potential affordability issues.
DAYS ON MARKET, WESTERN WASHINGTON
Average: 31 Days (16 days less than Q4 just one year ago)
In Kitsap County, average days on market: 17
Conclusion
Yes, it's a Seller's Market once again.  Matthew Gardner says, "I am moving the needle even further in favor of sellers."  Here's why: Covid-19 continues to push homeowners to stay put while renters flock to the countryside.  The resulting limited supply has "caused the region's housing market to be incredibly active." Matthew does warn that there may be "affordability concerns" that could prevent some homebuyers from entering the market and eventually slowing growth.
2021 will continue the trend of working from home, which keeps demand high. This, in turn, will drive sales growth, while affordability barriers will balance our current runaway appreciation for home values.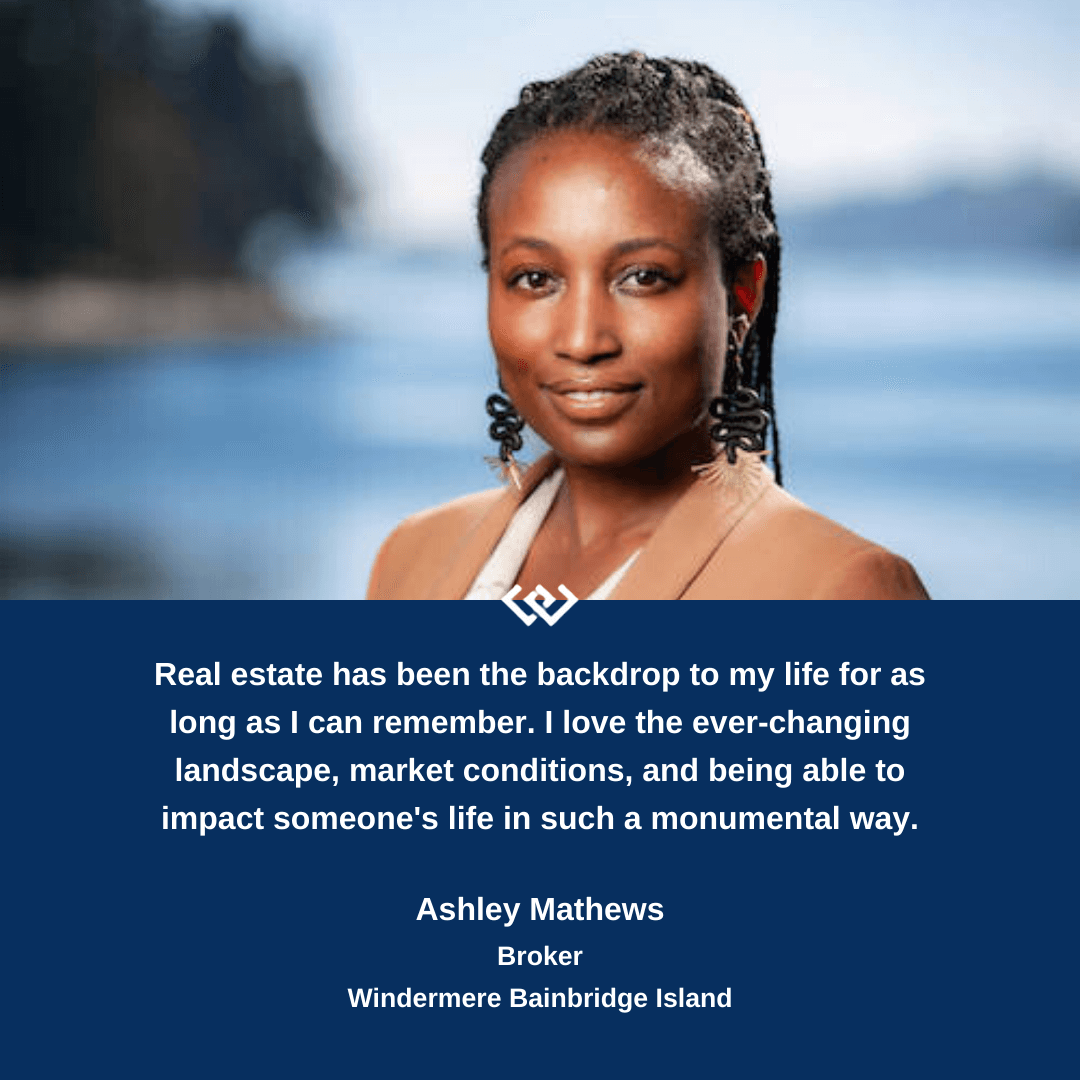 We're excited to highlight our new Broker, Ashley Mathews. Highly involved in our community, Ashley is passionate about helping people. She has a background in marketing and a range of industry experiences. Read on to find out more!
What unique professional skills do you possess that enhance your abilities as a realtor?
I started working at my mom's travel agency at around 12 years old, which taught me organization in a transactional industry. After stints as a realtor in the fast-paced New York City market, I moved on to the marketing side of the business. I am a marketer at heart and bring the combination of my marketing expertise to my transactional knowledge of real estate, which benefits my clients.
What drew you to real estate?
Real estate has been the backdrop to my life for as long as I can remember. I love the ever-changing landscape, market conditions, and being able to impact someone's life in such a monumental way.
How long have you lived here and what brought you here?
I have lived on Bainbridge Island for 12 years. I moved here from New York City after meeting a man from Bainbridge Island. He is now my husband of ten years.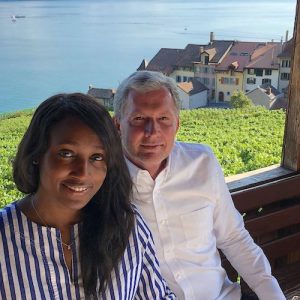 What personality traits do you think are important in this profession?
I think it's important to be a good listener, have the ability to roll with the punches, have a good sense of humor, and possess dedication and integrity.
What area do you serve and what do you love about it?
I serve Bainbridge Island and have a great deal of first-hand knowledge of Bainbridge's unique neighborhoods, having lived in downtown Winslow, Fletcher Bay, the Sand Spit, and Pleasant Beach. I love its beauty and the fact that it can be whatever one desires. Sometimes I enjoy its quiet serenity. Other times, I want to enjoy one of our award-winning restaurants. There is something here for everyone.
What made you decide to work with Windermere?
My passion for service has always made me a fan of the Windermere Foundation and its work. The Windermere Brokers on Bainbridge Island have such a great reputation and I wanted to be on their team. Blue is also my favorite color.
How are you involved in the community?
I serve as a board member for the Bainbridge Island Museum of Art, and I serve as Planning Commissioner for the City of Bainbridge Island. Additionally, I serve as the Chair of the Board Development Committee for Treehouse For Kids and sit on its Board of Directors Executive Committee. For over a decade, I've been involved in Bainbridge Island's vibrant equestrian community and am a member of the Bainbridge Island Saddle Club. I love the arts and have performed with the Bainbridge Chorale and on the Bainbridge Performing Arts stage in "Chicago" and "Cats". I am also a lifetime member of the NAACP.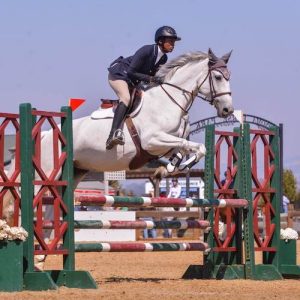 Is there anything else you'd like to share with us?
I have a 19-year-old daughter who inspires me every day as she navigates our new normal as a college freshman, as well as a beautiful and not so smart Doberman named Grace and a beautiful and very smart horse named Nektonia. I love to meet new Islanders so if you see me come say hi. Human connection is so important these days.
We're so glad that Ashley Mathews has joined us. We know her local expertise and her integrity make her an excellent choice for buyers and sellers. You can connect with her on Facebook or through her website.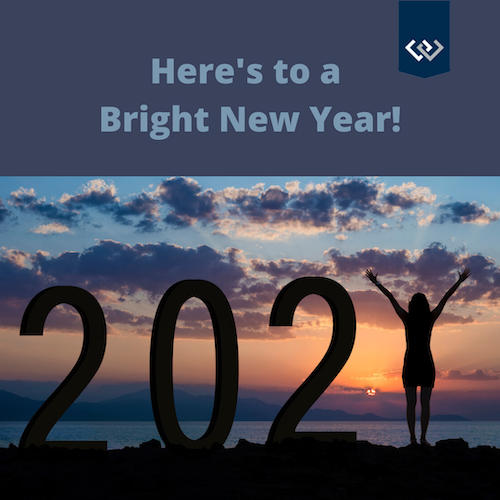 Each new year brings hope and the chance to start fresh. Here are some activities to help you feel rejuvenated and more connected to this incredible place we call home.
New Year, New View
We all get caught up in our daily lives and sometimes we take this gorgeous area for granted. Grab your coat and visit a trail you haven't been to in months or ever. There are many great trails here on Bainbridge like Grand Forest, which is made up of 240 acres with approximately eight miles of trails. Kitsap Peninsula offers many wonderful places to enjoy. Another peaceful spot is Point No Point Park and Lighthouse in Hansville. There's a short nature trail, a beautiful beach, and the oldest lighthouse on Puget Sound. While you're taking it all in, try to remember what it felt like to experience this place for the first time. Or, if you grew up here, remember the joy of sharing this place with a visitor. Tapping into that can help you see your surroundings with fresh eyes.
Unplug For One Day
If your routine involves a lot of time in front of a computer or on your phone, take a day to fully unplug. Turn off all of your electronics. Yes, even your phone. It can be challenging yet rewarding. Play a board game with your family, write good ol' fashioned letters or thank you cards, bake cookies for a neighbor. You may be surprised how often you automatically reach for your phone. In just one day, you can see where you really are on the usage spectrum. And, you may decide you want to limit your screen time as a new year's resolution. Even if you are fine with how much time you spend in front of screens, a day off from electronics can help you appreciate them more.
Share Your Love of Books, New and Old
Whether you're a voracious reader or have fond childhood memories of reading some of the classics, start the new year off by sharing your love of books. Donate a few of your books to your nearest Little Free Library so that others can enjoy them. If there isn't a Little Free Library near you, start your own! Either way, it's a great way to connect with neighbors, friends, and family over beloved books.
After you add to or start your own Little Free Library, you'll have the perfect excuse to visit your local bookstore. After all, you'll have gaps on your bookshelf that you'll need to fill. You can find an array of excellent books at Eagle Harbor Book Co. here on Bainbridge Island and Poulsbo's Liberty Bay Books.
If you never seem to have the time to sit down with a good book, try downloading a free app called Libby. You can borrow audiobooks by connecting the app to your Kitsap Regional Library card. It's user-friendly and offers tons of bestsellers and classics for free.
Create a Gratitude Jar
Want a simple yet meaningful activity that gets the whole family involved? Get a large jar and decorate it with the word "gratitude" on it or purchase a gratitude jar like this one. Every week, your family members can put little notes in it, describing what you're thankful for and memorable moments. To establish this new habit, pick a day that you'll each add one note to the jar, like on Sundays after dinner. That way, it quickly becomes part of your routine. Also, make sure your gratitude jar is in a prominent place so anyone can jot down a note whenever they want. At the end of the year, you'll get to go through all of these little notes together. It's an easy way to regularly practice gratitude and an enjoyable way to reflect on the year's highlights.
We wish you a happy, healthy 2021!