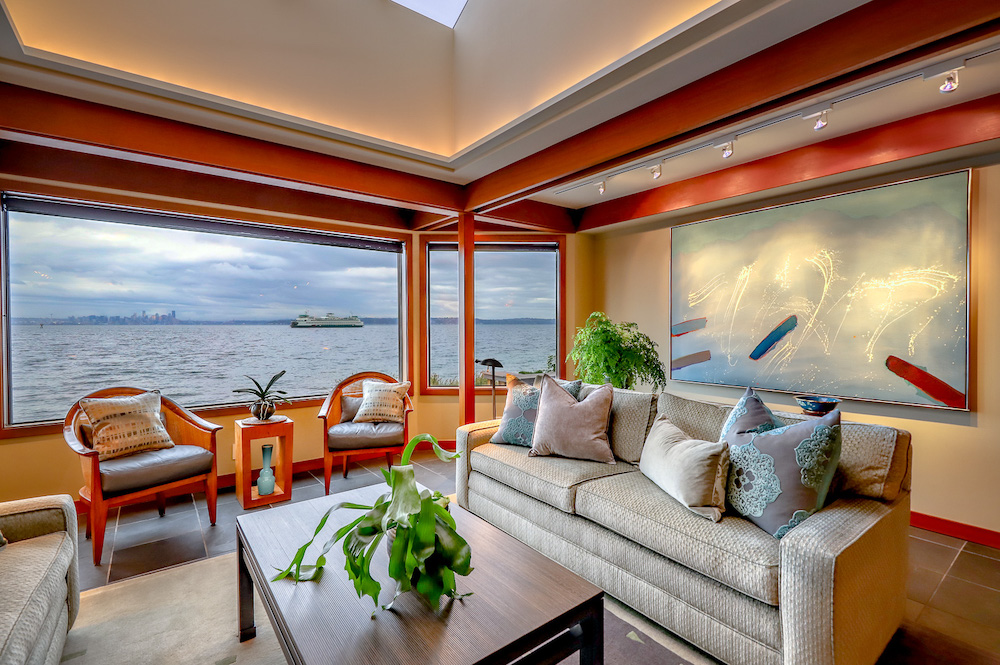 We have a strong seller's market, which means it's an excellent time to sell your home. Inventory remains low and there are many anxious buyers wanting to move out of crowded cities to a beautiful place like Bainbridge Island. In our third quarter, our closed sales were up by 46% year-over-year. But just because our market (or any market) is doing well doesn't mean you should casually list your home and expect to experience an incredible multiple offer situation. Some sellers are asking our agents this question: "Why do I need to stage my house if the market is so hot?" Our answer: It may be the best way to yield the outcome you want. Here are some key facts and figures for you to consider.
Proper Preparation Still Matters
If you have a good agent, you'll know how important it is to take the time to make sure your home is ready to put on the market. Even though our market is strong with many success stories, there are still some houses that are sitting on the market for longer than others. Sometimes it's because they were priced too high or they didn't take the time to prepare. Most buyers right now don't want a fixer-upper, in part because of the pandemic. They don't want to have to deal with workers in their house. So, carefully prepare your home and utilize your agent's local knowledge, resources, and expertise.
Think Like a Buyer
First impressions are everything and photos are usually buyers' first glimpse of your property. In fact, 95% of people search for homes online. So, you want to grab their attention with beautiful visuals. In a recent report by the NAR (National Association of Realtors), buyers rated photos as the most important element in their home search process. They rated it higher than the description of the home and higher than the location.
Now, you may think a photographer can simply take photos of your home as it is. However, if your home is cluttered or filled with various personal touches (as most of our homes are), it can be difficult for buyers to imagine themselves living there. Expert stagers can draw people in and provide just the right amount of detail. The research supports this as well. According to the NAR, 83% of buyers' agents said staging made it easier for buyers to see themselves living in the home they were viewing.
The Potential Return on Your Investment
According to last year's NAR report, sellers' agents stated that when staging a home, 39% saw an increase in the dollar value of the home, anywhere from one to ten percent. Additionally, 28% of sellers' agents saw a decrease in time on the market for staged homes. So if you stage your home using local experts, it could greatly benefit you, especially when you think of how this information applies to our current, local market. Serious buyers are out there but you want to make sure you're putting your best foot forward in order to achieve success.
Bainbridge Island's market had an incredibly strong third quarter. We've compiled key stats below to provide a comprehensive review of our market, as well as insights and predictions from Windermere Real Estate's Chief Economist, Matthew Gardner.
Our Strong Seller's Market
It's a hot seller's market here on Bainbridge Island. Inventory remains low and demand is still high. In our third quarter, closed sales were up 43.6% year-over-year. Buyers should be aware that multiple offer situations are very common. Our Brokers have seen a significant increase in all-cash offers. In September alone (when the market typically starts to cool down), 37% of all Bainbridge Island residential sales were from all-cash buyers.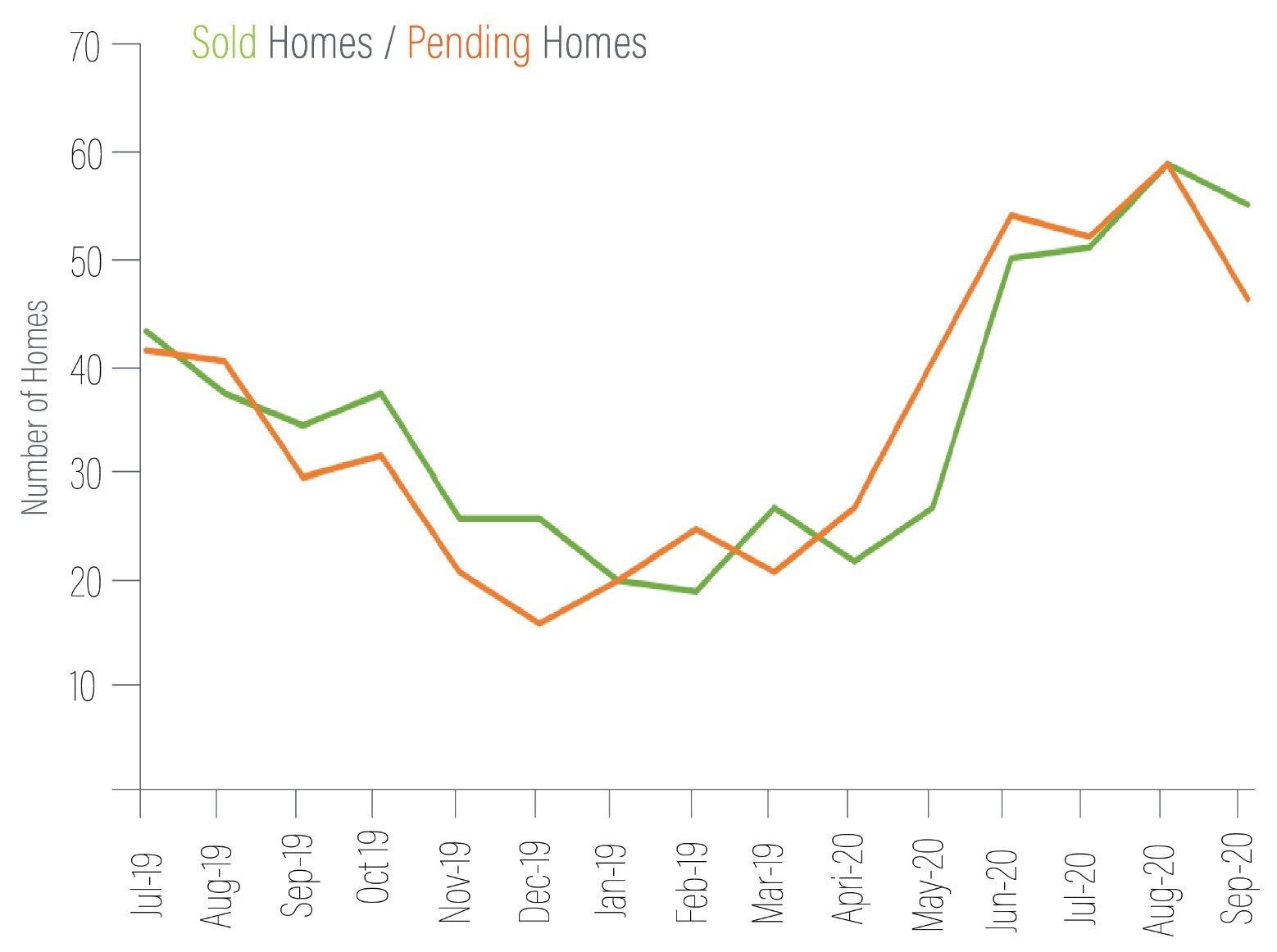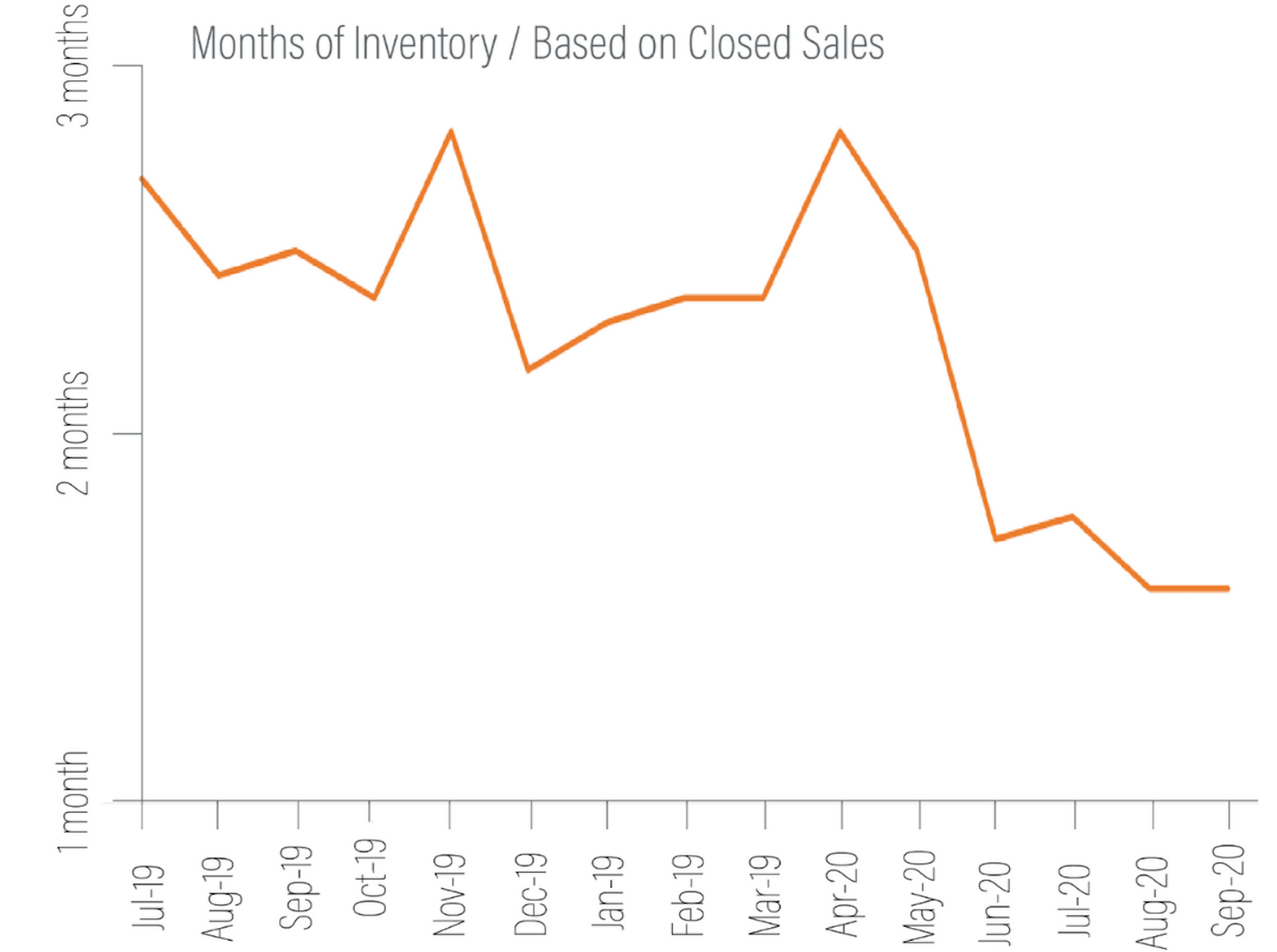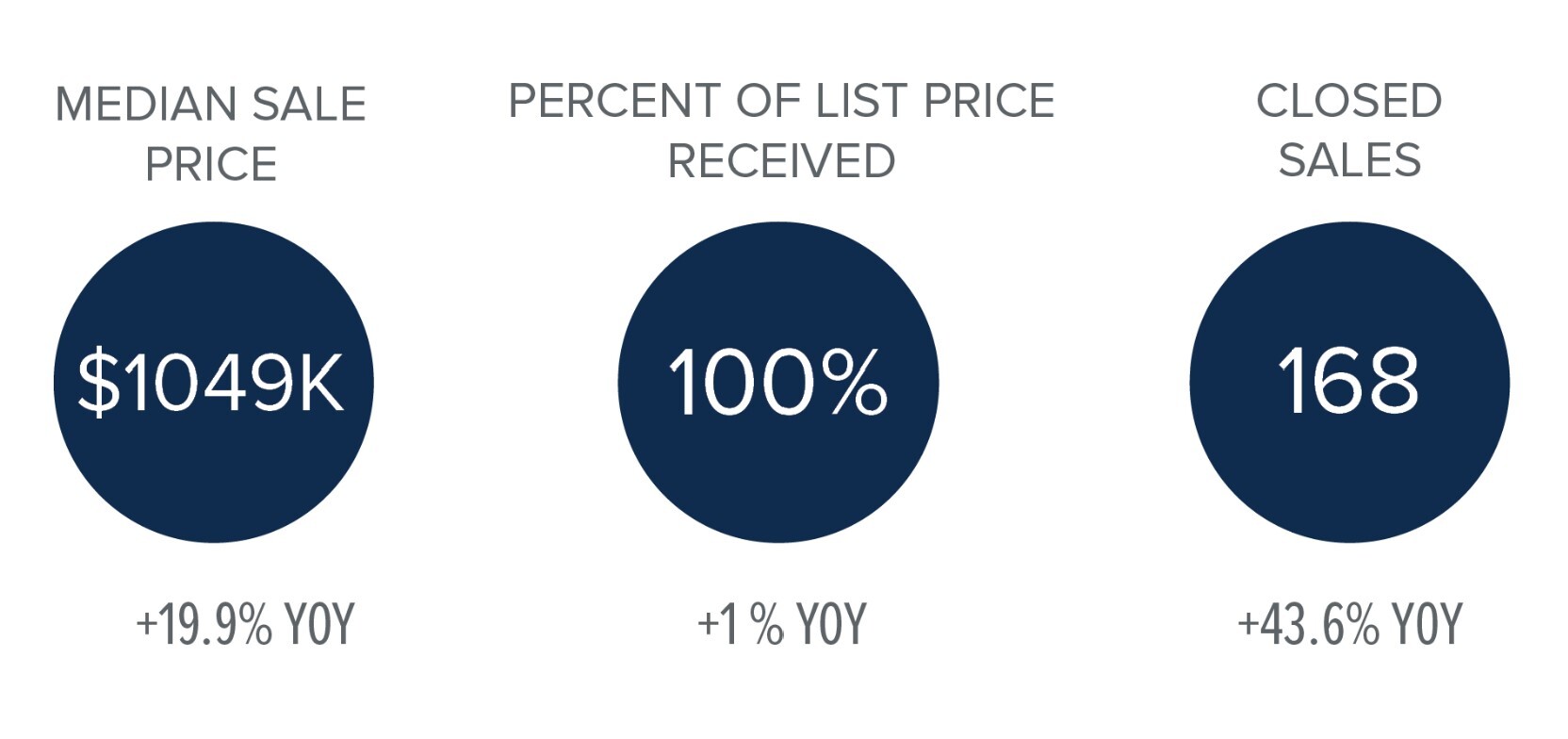 Market Predictions
Although mortgage rates remain historically low and demand is high, our Chief Economist, Matthew Gardner, has some concerns about how this may impact real estate down the road. "We may be heading towards a period where we see houses turn over at a far slower pace as we stay in our homes for longer than ever…this could be a problem as it leads to persistently low levels of inventory for sale, which itself could lead to prices continuing to rise at above-average rates and that would further hit affordability." As for mortgage rates, Gardner does not expect them to rise significantly any time soon. However, he says, "We should all be aware that there could be consequences to very low rates".
Western Washington Review
Let's zoom out a bit and look at our area. Below are highlights from The Western Washington Gardner Report provided by Windermere Real Estate's Chief Economist, Matthew Gardner.
WESTERN WASHINGTON HOME SALES
Total Sales: 11.6% increase from Q3/2019, and 45.9% higher than Q2/2020
Homes for Sale: 41.7% lower than Q3/2019, but up 1.6% from Q2/2020
Pending Sales: up 29% from Q2/2020
WESTERN WASHINGTON HOME PRICES
Average: $611,793 (up 17.1% from Q3/2019). Low mortgage rates and limited inventory are clearly pushing prices up.
Prices will continue to increase as long as mortgage rates and inventory levels stay low. If this continues to be the case, affordability issues will become more apparent in many markets.
DAYS ON MARKET, WESTERN WASHINGTON
Average: 36 days (an average of 4 fewer days than in Q2/2020 and 2 fewer days than in Q3/2019)
Kitsap County's average days on market: 20
Conclusion
In Gardner's Western Washington Report, he states that, although we have a strong seller's market that is very buoyant, he's "starting to see affordability issues increase in many areas—not just in the central Puget Sound region—and this is concerning. Perhaps the winter will act to cool the market, but something is telling me we shouldn't count on it."
Windermere Bainbridge Island studies market data each quarter to evaluate trends and stats in order to convey a valuable review to our clients and community. Windermere Real Estate's Chief Economist Matthew Gardner also contributes his broad, expert analysis of the Western Washington market, which we share below to illustrate a complete picture and forecast.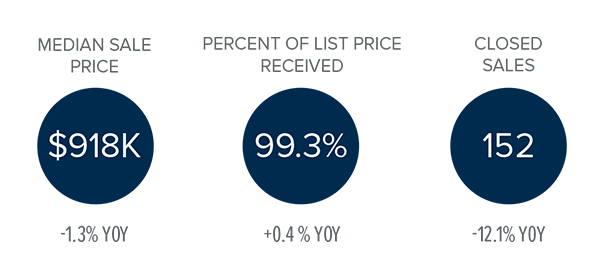 Despite the challenges of Covid-19, the Bainbridge Island real estate market continues to press on. June 2020 saw a dramatic rise in the number of pending sales from the same month last year. Mortgage rates remain historically low and multiple offers are once again commonplace, indicating our spring market may have been delayed but is now taking hold. For these reasons, our forecast speedometer continues to show a solid seller's market.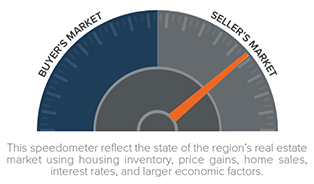 Western Washington Review and Forecast
The following is a summary of The Western Washington Gardner Report provided by Windermere Real Estate's Chief Economist, Matthew Gardner. He analyzes and interprets economic data and its impact on both local and national levels. Matthew has over 30 years of professional experience both in the U.S. and the U.K.
WESTERN WASHINGTON HOME SALES
Total Sales: 22.2% drop from Q2/2019, but 30.6% rise from Q1/2020
Homes for Sale: 37% fewer than Q2/2019, but up 32% from Q1/2020
Pending Sales: up 35.7% from Q1/2020
WESTERN WASHINGTON HOME PRICES
Average: $559,194 (up 3.5% from Q2/2019, up 6.6% from Q1/2020, suggesting that any concern regarding negative impacts to home values as a function of COVID-19 may be overblown.)
What to watch for: Significant price growth in less urbanized areas going forward may be an indication that COVID-19 is affecting where buyers are choosing to live.
DAYS ON MARKET, WESTERN WASHINGTON
Average: 40 days (matching Q2/2019, 14 fewer days than Q1/2020)
Conclusions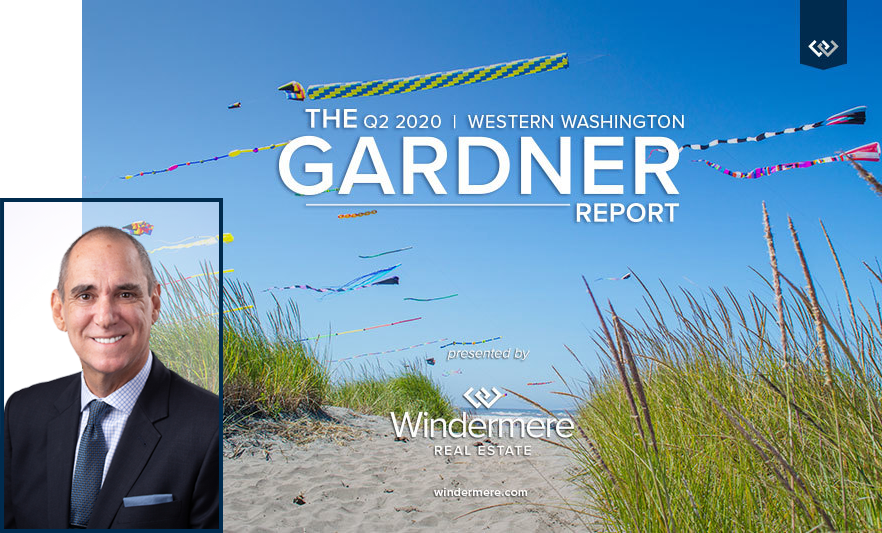 What a difference a quarter makes! Demand has re-appeared remarkably quickly and interest rates remain historically low. It certainly remains a seller's market and I don't expect this to change in the foreseeable future.